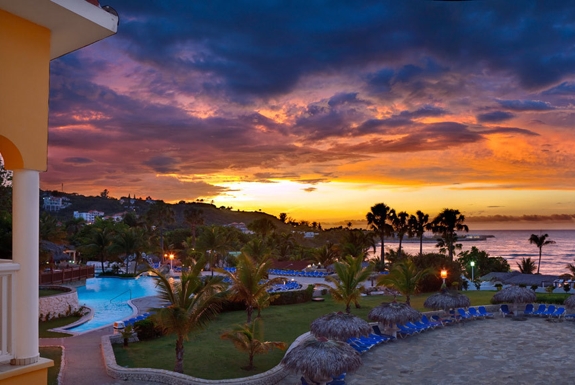 It's the sort of sale headline that seems way too good to be true: $19 per night at an all-inclusive Caribbean beach resort!
That's the travel deal the cool website Cheap Caribbean is offering for the next three days. $19 a night! That's with food, drink, accommodations and activities included at the Lifestyle Tropical Beach Resort & Spa in Puerto Plata, Dominican Republic.
But what's the catch? you are surely asking.
Is the deal only for specific dates that are already sold out?
Does the included food and drink consist entirely of pretzels and water?
To qualify for the deal do I first have to survive a night in a haunted house?
The answers to those last three questions are no, no and no respectively. Cheap Caribbean's latest flash sale truly is remarkable. But, as you do doubt suspect, Dear Reader, it also not quite as great as it seems. Here's Spot Cool Stuff's take on the good and bad of it:

What's Bad About the $19 Caribbean Deal
Let's dispense with the bad news first. Some fine print and downsides to consider before potentially booking:
$19 is the per person rate, based on double occupancy with a four night minimum stay
The deal is really $38/night for you and your partner or $152 for the two of you for four nights. That's still pretty incredible considering everything that's included — see the good news, below. Traveling solo will, oddly, result in a significantly higher rate. So will traveling with children. Stay with a partner and two kids and the rate shoots up to $114 per night for the four of you.
You have to stay between Sept 1st and Dec 23rd, 2014
Book before then and rates for most dates are $38 per person, which is twice as much but still a damn good value. We tried booking a variety of dates in the sale time frame and found availability for all of them.
[ ALSO ON SCS: The Best Websites for Booking a Cheap, Yet Cool, Caribbean Vacation ]
Tips, wifi and airport transportation are not included
If you make arrangements at the time of booking a round trip to and from the Puerto Plata airport will set you back $28 per person in a shared van or $56 for a private ride. As for the wifi, it's $25 for 24 hours or $60 for a full week.
Your room might or might not have an ocean view
The $19 per night rate is for a room in the resort's superior category. The name is a bit of a misnomer: There is no category lower than "superior." Most rooms, but not all, have some sort of ocean view. All superior rooms have air conditioning, cable TV, mini-fridge and a balcony or terrace. See an example in the pic below:
The food is average
No bad, by any means, but the resort's restaurants are rarely accused of being gourmet. Guests often find that they enjoy the buffets more than the sit-down meals.
The time share pitch
Hotel staff will try to sell you a time share. More than once. Usually, an unambiguous "no" will end the conversation.


What's Great About the $19 Caribbean Deal
It's a quality resort
If you are thinking that $19 a night gets you a resort with cockroaches in the rooms and algae in the pool then you are way off. The Lifestyle Tropical Beach Resort & Spa is a quality place with a central Puerto Plata location right on a beach. The resort is definitely not amazing — if cost weren't a factor we'd much rather stay at a Sandals. That said, the staff is friendly, the rooms are comfortable, the resort is safe and the amenities are plentiful. Among the offerings: 12 swimming pools, 14 bars (include one that never closes), 2 gyms, a nightclub, tennis and basketball courts and a life-sized chess set.
Consider this: On any given date we'd estimate that about one third of the guests at the Lifestyle Tropical Beach Resort are repeat visitors. With that level of customer retention, the resort must be doing something right.
It's fun
Ask those repeat visitors why they return to the Lifestyle Tropical Beach Resort and the most common answer you'll get is: It's fun. The resort definitely has a bit of a social vibe, especially around the pool-side bars. Members of the resort's entertainment staff (each of whom has adapted an unlikely nickname, eg. Especially Mosquito, George of the Jungle, Bamboo Coffee) run games, parties and special events. If you'd like a more sedate environment, the beach-side Bali beds (pictured below) are quiet and heavenly.
Alcohol is included! Oh, and so is the food.
Yes, your $19 includes 24-hours-a-day unlimited alcohol. (We're partial to partaking at the swim-up bar.) The cocktails are a little weak and incorporate alcohol with brand names you've never heard of. The rum is pretty good, actually; so is the local Presidente beer. Of course, all manner of non-alcoholic drinks are included too.
All food is also included — breakfast, lunch, dinner and snacks. Most of the resort's restaurants require reservations (which often have to be made early in the day). Surprisingly, most guests prefer the food in the restaurants that are reservation-free.
Guests can also eat and drink for free at two other nearby resorts: the Lifestyle Crown Residence Suites and the Cofresi Palm.
Activities are included too
Your $19 per night rate includes use of kayaks, scuba gear, admission to theater performances and even aerobics and Spanish lessons. Check out the sales page for more.

Our Verdict
The Lifestyle Tropical Beach Resort & Spa is a superb deal at Cheap Caribbean's regular discounted all-inclusive price of $38 per person. It's an amazing deal at $19. The food and drink alone is worth that. So are the resort's amenities and the ideal mix of partying and relaxing that's on offer.
What the Lifestyle Tropical Beach Resort isn't is a five-star resort. If you go seeking indulgent luxury, pampering service and everything to be just-so you'll be disappointed. But travel to Puerto Plata with lowered expectations and you've got yourself a deal.
The $19-per-night flash deal ends at at 11:59pm EST and April 3rd. Happily, Cheap Caribbean usually has some sort of sale going — click here for the latest.
published: 1 April 2014

LEARN MORE & BOOK | CARIBBEAN GUIDEBOOKS |




More from Spot Cool Stuff:
Beaches Resort Turks & Caicos Beaches Resort and the Largest Water Park in the Caribbean
Unusual Caribbean Beach: Go Swimming With Pigs
Amazing Plane Spotting on Maho Beach
A Comparison Review of the Best Sandals Resorts in Jamaica
Swimming with Whale Sharks on Isla Holbox

JOIN US ON TWITTER / FACEBOOK / PINTREST / GOOGLE+ / LINKEDIN / TUMBLR