At Spot Cool Stuff, almost all our reviews cover products and places we love. Sometimes, though, a product can be so mind boggling terrible that, well, there's something good about the horribleness of it.
With that attempted explanation we take a break from our usual routine of writing about genuinely cool things and present you with a collection of travel gear you would almost certainly never bring on your next trip—unless you lost a bet.

Brief Safe

Common travel problem: When traveling, you are under constant threat of being robbed by thieves who won't hesitate to strip you down to find your valuables but who are put off by unsightly and smelly underwear.
The obvious solution: Brief Safe underwear literally has a crotch pocket where you can hide your bills, large or small (for size doesn't matter). To keep would-be thieves at a disgusted distance from your hidden stash each Brief Safe comes with a painted-on skid mark. For added realism sprinkle on some "Doo Drops," which will give your underwear stain a realistic Eau de Toilette scent. (Really, we aren't making this up). Currently, the Brief Safe is only available in a male version and is presumed to be marketed towards single men who travel alone and who have given up hope of finding a girlfriend.
LEARN MORE & BUY | JOIN US ON TWITTER / FACEBOOK |

"How To Avoid Large Ships"

Common travel problem: Your Lonely Planet guidebook contains great background information about local sights and culture but doesn't give any advice on the single most important aspect of travel safety: how to avoid being run over by an oil tanker.
The obvious solution: Throughout the 112 pages of How To Avoid Large Ships author John Trimmer tells you everything you need to know about staying clear of easy-to-see, slow moving boats. As for how to avoid watercraft that are difficult-to-see and fast moving, well, that's obvious isn't it?

Shower Shock and Caffeine Tights
Common travel problem: It is important to stay awake and alert when you travel, but caffeinated beverages such as coffee, tea and colas are very difficult to find in most parts of the world and, anyway, who wants to spend their vacation time on the laborious and complicated process of drinking something?
The obvious solutions: Start your day by washing with Shower Shock soap. Build up a good lather, make sure not too rinse off too quickly, and this soap will inject caffeine into your bloodstream through your skin. Then, after your shower, put on a pair of Caffeine Tights. Women travelers (and cross-dressing men) will not only get a buzz through their legs throughout the day but these tights will supposedly help you burn fat and improve your "skin elasticity."
If those two items still aren't enough to keep you awake on your travels, check out Think Geek's collection of caffeinated items including lip balm, cookies, mints, sunflower seeds and breath spray.
LEARN MORE & BUY: SHOWER SHOCK / CAFFEINE TIGHTS |


The Beer Belly

Common travel problem: It is important to stay hydrated and/or drunk while traveling but water bottles are extraordinarily difficult to use and easy to loose.
The obvious solution: Keep 80 ounces (or 5 pints) of liquid refreshment under your shirt with the Beer Belly. Not only does this sling and bladder contraption allow you too carry around your drink without using your hands but it also has the advantage of making you look unattractively overweight.

Disposable Panties & Briefs
Common travel problem: You are trying to pack light for your trip but your luggage is so full of underwear that you don't have enough room for your passport, camera and other clothes.
The obvious solution: Disposable women's panties and men's briefs will free up much needed space in your luggage—at least on the return trip. In fairness, Spot Cool Stuff has not personally tested these out, partly because we were too embarrassed to ask for (much less use) a review sample and partly because we figured the company wouldn't oblige us once we told them the title of this post. The photos make it look like these temporary undergarments are made of a material that would produce a slight crinkling sound as you walk. If that's true, then the idea behind these pairs of disposable underwear was executed as well as it was conceived.
LEARN MORE & BUY: WOMEN'S / MEN'S |

ChildMinder Infant Safety Seat Monitoring System

Common travel problem: You are taking a family road trip with your toddlers who are so quiet—and unimportant to you—that you keep leaving them in the car while you go off sightseeing.
The obvious solution: The ChildMinder will sound an alarm on your keychain when you walk more than 15 feet (4.5 meters) from your vehicle while your little ones are still in their car seats, thus avoiding you reenacting some combination of Home Alone and a National Lampoon-worthy Vacation. Of course, for the alarm to be effective, you'll have to remember to bring your keys with you as you leave your car. But you wouldn't forget something as important as your keys, would you?

LEARN MORE & BUY | JOIN US ON TWITTER / FACEBOOK |


The Banana Bunker
Common travel problem: All potassium-enlightened travelers carry a good dozen or so bananas with them at any given time. But keeping bananas from getting smooched in your bag is difficult.
The obvious solution: The Freud-inspired Banana Bunker comes to the rescue. This strong plastic case will keep your bananas protected (provided your banana is a typical shape and size). Best of all, this handy item comes in a variety of translucent colors—we are especially fond of the effect created by the pink one—so your Banana Bunker can be as good looking as it is useful.
LEARN MORE & BUY | JOIN US ON TWITTER / FACEBOOK |

Taxi Hold'em iPhone App

Common travel problem: In most of the world's modern cities there are an abundance of taxis driving around without passengers (New York foremost among them). The only difficult part is getting the taxi driver's attention.
The obvious solution: Taxi drivers will come to a screeching halt when they see you holding an iPhone running Taxi Hold'em. This app will flash the word TAXI across your phone's screen when the iPhone is held lengthwise. And in the unlikely event that taxi drivers don't see the 0.7 inch (1.8 cm) high letters on your phone as they speed by, the Taxi Hold'em app will also let out a whistle loud enough to be heard by anyone standing right next to your iPhone. Taxi Hold'em is sold through the iTunes store. The only question is whether this app is worth the download price, which is free.
LEARN MORE & BUY | JOIN US ON TWITTER / FACEBOOK |

Bacon Strip Adhesive Bandages
Common travel problem: It can be a good idea to travel with a basic first aid kit but most bandages don't look anything like food.
The obvious solution: Bacon Adhesive Bandages will not only keep your cuts covered and clean but will also make it look like there's a piece of fried pig attached to your skin. Spot Cool Stuff, being as in tune with our readers as we are, knows what you are asking yourself right now: What if I want a wider variety of food to tape to myself? Well, we've got you covered (literally). Want to stick with the breakfast-bandage theme? You can always add fried egg bandages. Pregnant? Check out the pickle bandages. There are also bandages that resemble slabs of beef, pieces of toast and sushi.
LEARN MORE & BUY | JOIN US ON TWITTER / FACEBOOK |

The Shenis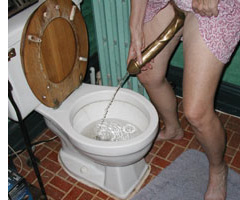 Common travel problem:It can be hard for women to find a private, hygenic toilet when traveling. And even if they do, they have to sit down to use it.
The obvious solution: Give your fellow female travelers Shenis envy with this device that lets women urinate while standing up, and to do so in public. (See the video of it in action, below, at your own risk). The manufacturer of the Shenis says that "Just like Victoria's Secret, we offer an array of many fashionable colors to match your attire." Um, yeah, just like Victoria's Secret.

LEARN MORE & BUY | JOIN US ON TWITTER / FACEBOOK |

updated: 2 Sept 2010

Related posts:
MoBA: The Museum of Bad Art
Toilet Restaurants Aim For A Crappy Experience
The World's Most Beautiful Ecological Disaster
8 Highly Unusual Items You Can Buy on Amazon.com ← really!
Completely unrelated posts (ie. travel gear that's actually good):
Reviews of the Best Digital Cameras For Travel
10 Absolutely Superb Travel Gifts
The Kindle 2 vs Kindle DX
The Best Backpacks for Photographers
The Best Waterproof Cases for your iPod or iPhone
Priority Pass: Stay In Airport Business Lounges (Even When Flying Economy)