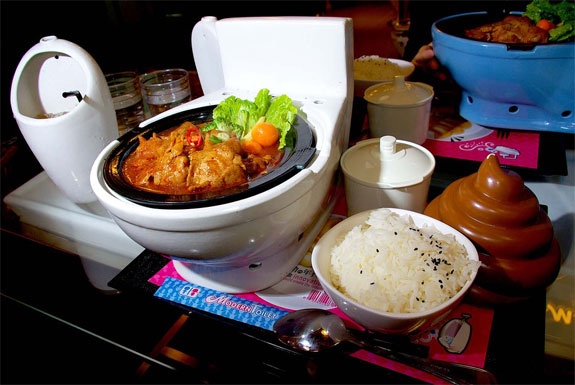 We can't imagine the marketing meeting during which some one pitches the concept for a toilet-themed restaurant . . . and the others in the meeting agreeing that it's a good idea. And yet presumably such a food services marketing meeting has happened. More than once. There are at least 20 (!) restaurants on planet Earth where toilets, urinals and potty talk are the central attraction. Five of those have opened in 2008 alone and at least ten more are planned for 2009, most in either China or Taiwan.
Let's get you going with an overview of some of the world's crappy dinning experiences in Taiwan, Hong Kong, Germany and Portugal . . .
Marton Modern Toilet – Taiwan, Hong Kong
The first Modern Toilet Restaurant opened in 2004 in Taipei, inspired by a cartoon that featured a toilet drawing on a menu. Since then Modern Toilet has been flush with success, opening 11 more branches around Taiwan and one in Mongkok, Hong Kong. At most locations the restaurants are known by locals as the Marton (which approximates the Chinese word for "toilet") or simply as "The Toilet Restaurant."
Regardless of your moniker of choice, at each Modern Toilet restaurant patrons sit at a glass tabletop with a sink or bathtub base. In some cases, the tables are next to, or inside, showers. There are rolls of toilet paper on the tables in place of napkins. Drinks are served in mini urinals instead of glasses. Meals are served in bowls—mini toilet bowls, that is—and come with a little plastic turd on the side for, you know, "decoration." All of that takes place in an atmosphere that's a lot more fun, cheerful and neon-filled than you picture the typical bathroom as being.
At their flagship Taipei restaurant Modern Toilet can accommodate over 100 people. You'll have a hard time walking in and finding a toilet bowl seat, especially around lunch time—the restaurant is very popular with students from the nearby university. If you do get on a crapper there you'll find the food an extraordinarily good value—most meals are under NT$200 (US$6, €5). We suggest you resist the urge to order a "hot pot." Instead we're partial to the Shabu Shabu, which a soup with your choice of meats in a white creme base; try not to think of it as Milk of Magnesia.
Oh, if you are wondering, each Modern Toilet restaurant does have proper bathrooms. They are very well marked to prevent patrons from making the horrible mistake. However, after you use the facilities you'll have to wash your hands at a sink that is in—you guessed it—a toilet.
LEARN MORE
|
READ
|
FLY THERE
|



Das Klo – Berlin, Germany
If Taiwan's Modern Toilet (above) takes its shitty theme seriously then at Berlin's Das Klo it is all a big joke. At Klo ("toilet" in German) the bar meals are serviced in chamber pots, the beer in urine specimen bottles and the sausages in miniature ceramic toilet bowls. But the "fun" doesn't stop there. Klo is awash in gags. Walk through the front entrance and you might get splashed with water, greeted by a skeleton or, if you are wearing a skirt, hit with a gust of air that comes up at you from beneath a grate in the ground. Once inside there's a good chance that the DJ or wait staff will publicly poke fun at you (this is less embarrassing if you don't speak German) and that you'll experience rocks falling half-way down upon you from the ceiling (the threatening avalanche is really made of paper mache). But in the end it all comes back to the bathroom theme and the ambiance gushing with decorative toilet seats, bedpans, and other assorted oddities that deal with bodily functions. After all, the founder of Klo came with the idea while sitting on the toilet.

LEARN MORE
(mostly in German) |
READ
|
FLY THERE
|

W'Duck – Matosinhos, Portugal
Imagine your cool but otherwise typical bar in Los Angeles, London or New York. Now imagine it with toilet seats and you pretty much have W'Duck outside of Porto, Portugal. Between the unusual choice of chairs, and the lighting that changes color based on the time of day, patrons of W'Duck might not notice that the food here is really good; the menu is heavy on spicy Portuguese specialties served with organic beer and wine.
And with that, another Spot Cool Stuff travel post is in the can.

LEARN MORE
|
READ
|
FLY THERE
|

Related Posts:
Pitch Black Dark Restaurants
Taipie's Raunchy Medical Restaurant
The Cat Cafes of Tokyo
The Restaurant Where You Eat in a Straight Jacket
Read & Roll: The High Design Toilet Paper Holder