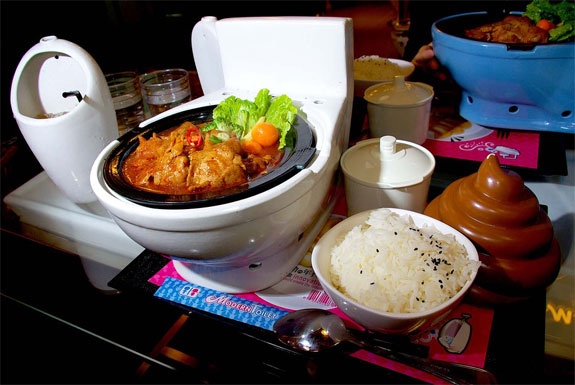 We can't imagine the marketing meeting during which some one pitches the concept for a toilet-themed restaurant — and the others at the meeting approving of the idea. And yet presumably such a meeting has happened. More than once. There are at least three dozen (!) restaurants on planet Earth where toilets and urinals, poop and potty talk, are the central attraction. What's more, those restaurants are so flush with success that a couple of new ones open every year.
Sounds delicious! Where can I find these toilet restaurants? we're sure you are asking yourself right now (because we're in tune with our readers like that). Here's our review at some crappy dinning experiences in Taiwan, Hong Kong, Malaysia, Germany, Portugal and California:

Marton Modern Toilet
Taiwan, Hong Kong, China
The first Modern Toilet Restaurant opened in 2004 in Taipei. Since then, several branches have opened Hong Kong, China and other cities around Taiwan. At most locations the restaurants are known by locals as "Marton" (which approximates the Chinese word for "toilet") or simply as "The Toilet Restaurant."
Regardless of the moniker, each Modern Toilet restaurant features patrons sitting at a glass tabletop with a sink or bathtub base. In some cases, the tables are next to, or inside, showers. There are rolls of toilet paper on the tables in place of napkins. Drinks are served in mini urinals instead of glasses. Meals are served in bowls — mini toilet bowls, that is — and come with a little plastic turd on the side for, we suppose, "decoration." All of that takes place in an atmosphere that's a lot more fun, cheerful and neon-filled than your typical bathroom.
At their flagship Taipei restaurant, Modern Toilet can accommodate over 100 people. Still, you'll have a hard time walking in and finding a toilet bowl seat, especially around lunch time — the restaurant is very popular with students from the nearby university. If you do get on a crapper there you'll find the food an extraordinarily good value. Most meals are under NT$200 (US$6.50, €5). We suggest you resist the urge to order a "hot pot." Instead we're partial to the Shabu Shabu, which a soup with your choice of meats in a white creme base; try not to think of it as Milk of Magnesia.
Oh, if you are wondering, each Modern Toilet restaurant does have proper bathrooms. They are very well marked to prevent patrons from making the horrible mistake. However, after you use the facilities you'll have to wash your hands at a sink that is in the shape of — you guessed it — a toilet.
LEARN MORE | FIND GUIDEBOOKS |

T-Bowl
Kuala Lumpur and Penang, Malaysia
The 3rd floor of the Sungei Wang Shopping Mall in Kuala Lumpur† is where you'll find T-Bowl, a restaurant whose theme sums up what many people think of the Sungei Wang Shopping Mall. In most respects the restaurant is similar to Taiwan's Modern Toilet, with a few key differences of note:
• On weekdays you can make reservations online.
• The decor has a bathing theme as much as a toilet one — shower curtains between booths, bathtubs by the tables, etc.. This makes the dinning experience slightly less disgusting.
• Bringing the disgusting factor back up: The restaurant offers seating on squat toilets, like the sort often found around southern Asia (see pic, below). It isn't at all clear whether these toilets are functional or not. Heaven help the T-Bowl patrons on the day someone tries to find out.
LEARN MORE | FIND GUIDEBOOKS |
† There's also a branch in Penang. For those with money to flush down the toilet, the chain is looking for investors to fund other franchise locations.

Das Klo
Berlin
If Taiwan's Modern Toilet (above) takes its shitty theme seriously then at Berlin's Das Klo it's all a big joke.
At Klo ("toilet" in German) the bar meals are served in chamber pots, the beer in urine specimen bottles and the sausages in miniature ceramic toilet bowls. But the "fun" doesn't stop there. Klo is awash in gags. Walk through the front entrance and you might get splashed with water, greeted by a skeleton or, if you're wearing a skirt, hit with a gust of air that comes up from a grate in the ground. Once inside there's a good chance that the DJ or wait staff will publicly poke fun at you (this is less embarrassing if you don't speak German) or that you'll experience rocks falling half-way down upon you from the ceiling. (The threatening avalanche is really made of paper mache). But in the end it all comes back to the bathroom theme and the ambiance gushing with decorative toilet seats, bedpans and other assorted oddities that deal with bodily functions. After all, the founder of Klo came with the idea while sitting on the toilet.
LEARN MORE (mostly in German) | GUIDEBOOKS |

W'Duck
Matosinhos, Portugal
Imagine you are in a trendy but otherwise typical restaurant-bar in Los Angeles, London or New York. Now imagine it with toilet seats instead of chairs. That's pretty much W'Duck. Though it does have one other distinctive feature: the lighting changes color based on the time of day. Between that and the unusual seating, patrons of W'Duck might not notice that the food here is really good; the menu is heavy on spicy Portuguese specialties served with organic beer and wine.
LEARN MORE (Portuguese only) | FIND GUIDEBOOKS |

Magic Restroom Cafe
Los Angeles
If you've ever longed to order "golden poop rice" off a menu, rejoice! You'll have an opportunity to do exactly that at the Magic Restroom Cafe. It's the first (and, at the time of writing, only) toilet-themed restaurant in North America. The owner is from China and was inspired by the success of toilet restaurants there. The Magic Restroom, like its Chinese counterparts, has toilet bowl chairs, toilet bowl bowls, bathtub tables and poop-shaped ice cream. Although, the names for some of the menu items take the potty humor to a whole new level — eg. if you want a vanilla-strawberry sundae you'll have to order a "bloody number two." But at least the Magic Restroom Cafe has one child-friendly feature not found in any toilet restaurant in Asia: toilet plungers in the lobby. You know, for the kids to play with while waiting for a table.
LEARN MORE | FIND GUIDEBOOKS |
And with that, another Spot Cool Stuff travel post is in the can.
updated: 10 April 2014


More unusual restaurant reviews on Spot Cool Stuff:
L'Auberge du Dragon Rouge: Montreal's Medieval Restaurant
The Cliff-side Restaurant Near the Sanyou Cave
The Restaurant with Monkey Waiters
Pitch Black Dark Restaurants
The Cat Cafes of Tokyo
The Restaurant Where You Eat in a Straight Jacket
JOIN US ON TWITTER / FACEBOOK / PINTREST / GOOGLE+ / LINKEDIN / TUMBLR