Spot Cool Stuff loves finding good bakeries on our travels. Spontaneously coming across one while exploring a village or city neighborhood can make an ordinary walk special. But some bakeries are special in their own right and worth purposefully seeking out — either for the quality of their baked goods or for their interior design or for the atmosphere of being there or for some combination of all those.
Below is our review of eight such bakeries. We hesitate calling them the "best," since the world has many bakeries and we've only been to a relatively small handful. But each of our selections has some superlative feature that's well worth a detour when traveling nearby.




Baker D. Chirico Bakery
Carlton, Australia
Undulating wooden shelves that extend up to — and then on to — the ceiling gives the Baker D. Chirico Bakery an instantly cool look. Spend some time in the Melbourne-area bakery and you'll come to find the sales counter pretty amazing too. The architectural firm March Studio designed it with specific slats and crevices for holding knives, crumb trays, scales and the like. But the Baker D. Chirico isn't all eye candy. The bread, displayed on the shelves sans wrapping, is gorgeously tasty and smells heavenly when fresh out of the oven.
LEARN MORE (website not launched at writing) | AUSTRALIA GUIDEBOOKS

Poilâne
Paris
There's a line in a Jimmy Buffett song about a man who felt lost in the world . . .
He went to Paris, looking for answers, to questions that bothered him so.
. . . that prompted one friend of Spot Cool Stuff to sell his belongings and move to the French capital. Exactly what the questions were bothering him so, we're not sure. But he found his answers, he claims, at the Poilâne Bakery.
And he's not the only one. We've heard of several other people who have moved to Paris (or severely extended their stays there) entirely because of Poilane. The bakery, located in Saint Germain des Prés, oozes with the charm of old pre-war Paris. And no wonder. The bakery first fired up its wood-fueled ovens in 1932. Since then, the ovens (and the bakery) have been run by the same family. The current proprietor, Apollonia Poilâne, had to suddenly take over the bakery when she was only 18 years old after her parents tragically died in a helicopter accident. (See this wonderful little article from The New Yorker for more on that.)
In truth, Spot Cool Stuff doesn't quite see the magic in Poilane's that its most ardent fans do. But picking up a large paper bag's worth of hot pomme chaussons, strolling with a coffee to the nearby Luxembourg Gardens, and sitting down for a snack at the little table by the carousel — that is undeniably special.
LEARN MORE | PARIS GUIDEBOOKS |

Blé Bakery
Thessaloniki, Greece
The world's largest wood oven – it's over 12 meters (40 ft) tall – churns out boutique breads at the enormous Blé Bakery in the Greek port city of Thessaloniki. Blé's savory and sweet baked goods are outstanding. And yet they aren't the only culinary reason to visit. The four-floor establishment also has a world-class delicatessen, wine bar, cheese shop and Cretan take-out restaurant. In fact, several of the meals on offer are difficult-to-impossible to find outside of Crete.
LEARN MORE (Greek only) | GREECE GUIDEBOOKS |

Sullivan Street Bakery
New York City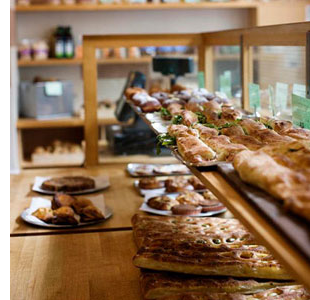 New York City is full of excellent bakeries. And yet it isn't too hard picking the best: The Sullivan Street Bakery. The incredibly reasonably prices are certainly part of the appeal — US$15 will get you a slice of pizza bianca, an Italian-style hand-crafted sandwich, a sweet baked good and a drink! But, at any price, the food is gourmet. Our favorite offering is the pana casa reccio, a crunchy-on-the-outside, tender-on-the-inside bread loaf that's 70% sourdough, 30% whole wheat and 100% deliciousness.


VyTA Boulangerie
Turin, Italy
It might be the world's swankiest bakery. The VyTA Boulangerie in Turin has a look and feel that's more like a hip nightclub than a humble bakery, such that it is hard to know whether you should eat that croissant you just ordered or start dancing around it. The architectural firm ColliDanielArchitetto designed the hood above the front counter to look like a super sized woven bread basket; the shapes on the walls represent bread crumbs. VyTA Boulangerie also has different-looking, but also cool, locations in Rome and Milan.
LEARN MORE | ITALY GUIDEBOOKS |

Patisserie 46
Minneapolis, MN USA
In France, an establishment can only call itself a "patisserie" if its goods are made by a master pastry chef. Minnesota law doesn't have that particular provision. But Patisserie 46 could still keep its name of it did. Its maître pâtissier, John Kraus, is an accomplished baker and routinely mentioned as one of the best pastry chefs in the United States, if not the world. Among his delectable creations you'll find within the cozy confines of Patisserie 46: olive sourdough bread (available Thrusdays only), banana Nutella brioche and chocolate truffle cookies.
LEARN MORE | MINNESOTA GUIDEBOOKS |

Pâtisserie Sadaharu Aoki
Paris, Taipei & Tokyo
On the whole, the quality of baked goods in Japan is dreadful. But Sadaharu Aoki did not learn the art of pastry making in Japan. He learned it in Europe, where he moved as a young man to attend culinary school. By the time he was 30, Aoki's elaborate looking (and tasting) pastries were the in thing among the fashion designers of Paris. Aoki cooked custom creations for the likes of Kenzo and Christian Dior.
Fortunately, you needn't be a fashion icon to enjoy one of Aoki's baked goods these days. You can simply walk into one of his shops in Paris, Taipei or Tokyo. Bring your camera (as well as extra cash to cover the steep prices) since the treats on offer tend to be as colorful as they are tasty.
LEARN MORE | PARIS / TAIWAN / TOKYO GUIDEBOOKS |

Adriano Zumbo Patissier
Sydney
If Willy Wonka were to design a bakery it would look something like the surreal Adriano Zumbo Patissier located inside The Star†, Sydney's massive dining, hotel and entertainment complex. The patissier's central feature is the "dessert train," a conveyor belt that parades surprisingly colorful delectables past the seated patrons. See a dessert you like? Grab it off the train and it is yours. (We especially suggest the macaroons). The color of the plate indicates each baked good's price. When you are ready to leave — otherwise known as the moment you realize that you've eaten way too much and need a change a venue before the dessert train brings you yet another goodie can't pass up — you bring your stack of plates to the cashier and pay the bill.
LEARN MORE | AUSTRALIA GUIDEBOOKS |
† There are three other Adriano Zumbo establishments around Australia, but none have the dessert train or are close to as colorful as their location in The Star.

. . . and some readers' picks:
We asked our fans on Facebook and followers on Twitter for their best bakery picks. Among the best bakery nominees we received:
• Patisseri Poupon in Washington DC
• Mindy's HotChocolate, Chicago
• Tartine Bakery & Café, San Francisco
• Clear Flour Bread, Brookline, MA (USA)
• Maison J Dandoy, Brussels, Belgium
• Po's Atelier Bakery and Café, Hong Kong
• Demel, Vienna
• Panella, Rome
• Le Grenier à Pain, Paris
• "The bakery located in Melbourne's Queen Victoria Market"
• And, from @katherinefl0res comes a list of Toronto's 10 best new bakeries for 2012
Have a suggestion of your own? The comments section, below, awaits you.
published: 5 Jan 2013


More superlative travel ideas from Spot Cool Stuff:
The World's Best Bike Shops
The World's Best Bookstores
The World's Best Toy Stores
The World's Smallest Restaurants
The Bakery with the Cupcake ATM
Elsewhere on the web: