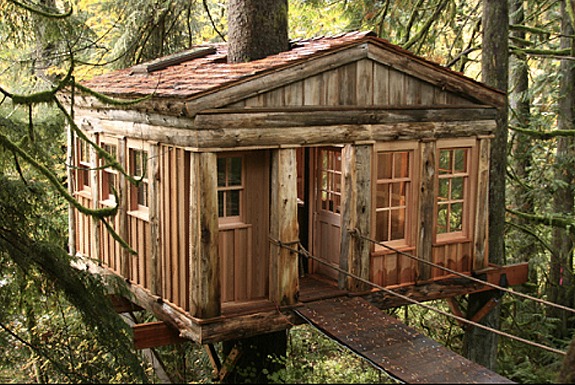 Seattle is a Spot Cool Stuff favorite city. We love experiencing its vibrant urban heart. And we love how easy it is to escape that for the accessible natural beauty of the Pacific Northwest.
A case in point (literally, a "point") is The Treehouse Point. The complex—part treehouse hotel, part quaint event venue, part wilderness preserve—is in the middle of a lush forest yet only a 35-minute drive from downtown Seattle's famed Pike Place Market.



The experience of staying at The Treehouse Point is a curious mix of luxury and roughing it.
On the luxury side of the ledger are the interiors of the treehouses themselves. These are no scrapped-together shelters of the sort a shipwrecked Swiss Family Robinson would construct. The beds are as plush as you'd expect to find in a high end bed and breakfast. The treehouses are weatherproof and sturdy. Each is heated, electrified and well adorned with comfy chairs, desks, books, puzzles and CDs. (Fritz Robinson, we're pretty sure, didn't have an iPod dock in his treehouse.)
As for roughing it, what stands out most are the bathrooms. Facilities are shared and are a walk from each treehouse — a walk through terrain that's relative wild. The property's scenic river and canopy of trees are indeed beautiful. They are also damp, cold and bug-filled.
Somewhere between luxury and roughing it is The Treehouse Point's included breakfast. It isn't exactly gourmet. But the granola, yogurt, fruit, eggs and home-made pastries are tasty and come with plenty o' tea and coffee.
The downside of the Treehouse Point? Being located in Issaquah, Washington, it is very close to the I90 highway. The traffic noise is audible in portions of the grounds. Also, at $200+ per night, a stay here isn't inexpensive. But considering the creative accommodations and gorgeous setting, we think Treehouse Point is totally worth the price.
Treehouse Point Accommodations Options
There are four separate treehouses to choose from at Treehouse Point. Our rundown, from most to least recommended:

• Trillium (pic to right) – A spiral staircase leads up to this stunning two-story arboreal retreat. The walls of this treehouse are more window than wood, giving Trillium arguably the best views anywhere in Treehouse Point.
• Temple of the Blue Moon (top pic) – A tree shoots straight through the middle of this treehouse. You get to your room by walking across a suspension bridge. What more do you need to know?
• Upper Pond – A ladder leads up on a private deck and your treehouse accommodations beyond. The two built-in bunk beds (ie. four single mattresses) make the Upper Pond more for groups of friends than for romantic couples.
• Nest – This is the smallest of the treehouse offerings, the closest to the highway (you can hear the traffic) and the furthest from the bathroom. All that combines to make it our least favorite. That said, the large picture window and quaint balcony make even this, the bottom wrung of the accommodations at Treehouse Point, still pretty darn cool.
updated: 13 Mar 2013

LEARN MORE & BOOK | SEATTLE GUIDEBOOKS | SEATTLE GROUPON DEALS

When: Open year round. Treehouses tend to fill up quickly during the summer months.
If you go: Treehouses are heated and extra blankets are available. Still, the forest in them thar hills is damp and chilly. Dress warmly.
Family friendly: Yes. Though the vibe at Treehouse Point is more romantic than family-active, kids are welcome. (And what kid doesn't like a treehouse?) Trillium and Upper Pond (see above) are your two treehouse choices when staying with young'uns.
For your bookshelf: The Treehouse Book





LEARN MORE & BOOK | SEATTLE GUIDEBOOKS | SEATTLE GROUPON DEALS

Related posts:
Sweden's Invisible Treehouse Hotel
5 Amazing Glamping Sites
Rosalie Forest Eco-Lodge: Live as a Castaway in Dominica
Unusual Office Architecture: A Table Through the Forest
Cedar Creek Treehouse Hotel ← by Mt. Rainer, Washington
Reviews of the Best Cameras for Travel