Sometimes the name of a pub describes exactly what it is. So it is with the Big Baobab Bar in Limpopo Province, South Africa.
The "Baobab" in the moniker refers to a type of tree that's native to Madagascar and found sprinkled throughout arid regions of southern Africa. The genus is colloquially referred to as "the upside down tree" — in the dry season, when baobabs sheds its leafs, the branches resemble underground roots.
"Big" is an adjective that describes many baobabs. The trees can grow to a massive size thanks to their remarkable ability to store water. The particular baobab that's the subject of this article can store an estimated 120,000 liters (32,000 gallons) of water. It's 47 meters (154 feet) in circumference — it would take 40 adults, with arms outstretched, to encircle it! Botanists figure that the tree is more than 6,000 years old.
Unlike your typical deciduous tree that grows in seasonal concentric circles, baobabs grow in chunky spurts that often lead to hollow areas inside the tree. Which brings us to the "Bar" of the Big Baobab Bar.
Back in 1933, the owners of the Sunland Baobab Estate near Modjadjiskloof, South Africa noticed that one of the baobab trees on their property had a particularly large and interesting hollow area. Being Dutch immigrants, they naturally decided to construct a pub inside. It has been serving up drinks ever since.
[ ALSO ON SCS: 7 Amazing & Luxurious South Africa Safari Lodges ]
The Big Baobab Bar comfortably accommodates around 15 patrons, though 54 (probably inebriated) adults once squeezed in for a party. The bar has many of the trappings of a traditional European pub — draught beer, bar stools, a dartboard — except there are fewer hooligans and many more ants. Coolest of all, literally, is the lower level of the interior tree cavern where the moisture and darkness naturally keep the beer cold.
In addition to the arboreal bar, the grounds of the Sunland Baobab Estate is also home to a treehouse restaurant and a budget resort. See our planning box, below, for some details.
updated: 16 April 2014

LEARN MORE | BUY GUIDEBOOKS | TRAVEL GEAR DEALS |





Planning your Big Baobab Bar visit
Getting there: Driving is by far the easiest transportation option — it's about 3.5 hours from Johannesburg and 1 hour from the Phalaborwa Gate of the Kruger Park. Coming on the main road from Polokwane, your turn-off will be about 6km before Modjadjiskloof. Look for the "Sunland Nurseries" sign.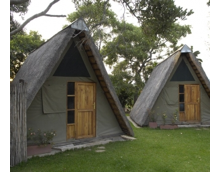 Where to stay: At the Sunland Baobab Estate guests sleep in A-frame bungalows (or "jungalows" as they call them) that, while comfortable, are far from luxurious. Rates are R300 (about US$28) per adult for self-catering or double that with three meals included. There's a swimming pool on the grounds, as well as a bush spa and quad biking trails.
Family friendly? Absolutely! Kids are welcome inside the Big Baobab Bar in particular and around the Sunland Estate in general.
For your bookshelf: The Remarkable Baobab
For your day bag: Baobab Superfruit Chews

More posts on Spot Cool Stuff:
The Mystery of Poland's Crooked Forest
Eat Breakfast with a Giraffe
The Okinawa Restaurant That's In a (Fake) Tree
A Review of the Baumhaus Hotel Treehouse
JOIN US ON TWITTER / FACEBOOK / PINTREST / GOOGLE+ / LINKEDIN / TUMBLR