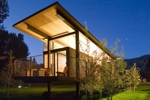 spot cool stuff TRAVEL
The Methow Valley is as picturesque as any in the world. Nestled in a high pocket of the North Cascades of Washington State, the valley is all forests and flower fields, ravines and rivers, snow peaks and sunshine1. And it's all crisscrossed by biking, hiking and running paths — and by one of the longest cross country skiing trails in the world.
Until recently, one of the few blights on the Methow Valley was a particularly unattractive RV park northwest of the town of Winthrop. Happily, the Winnebagos there have given way to a wild meadow that's mostly untouched except for the unusual, low-impact accommodations offered by Rolling Huts. It is a fantastically cool place to stay.
---