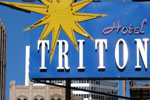 spot cool stuff TRAVEL
Spot Cool Stuff strives to be objective in all our reviews. That's nearly impossible for us when it comes to the Hotel Triton. This fun, boutique hotel at the edge of San Fancisco's Chinatown has a special place in our heart. In our early adulthood we spent many nights here while working on a consulting project. It was the first high design hotel we stayed at and our home base for exploring the city by the Bay.
Thereafter our travels did not take us back to San Francisco for six years. When we returned we decided to stay at the Triton again. After we checked in we found a handwritten note in our upgraded room that read: Where have you been for the last six years? We've missed you!
How can you not love service like that!?
---