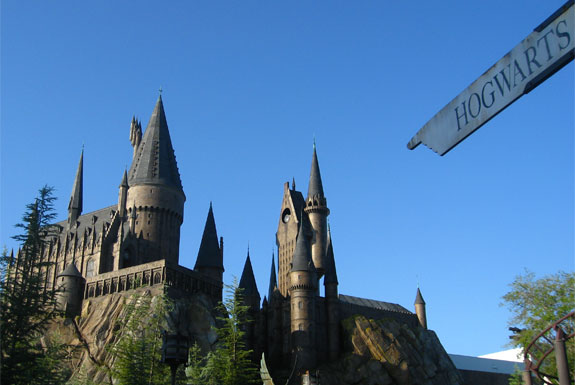 If you are planning a vacation to Central Florida with young Muggles, odds are high that they've tugged on your arm begging you to take them to the Wizarding World of Harry Potter. The attraction, a part of Universal's Islands of Adventure theme park, has been Orlando's hottest attraction since it opened in June of 2010.
Nearly any kid who's a fan of the J.K. Rowling books will eat up everything about the Wizarding World like so many Bertie Bott's Every Flavour Beans. But what about the parents?
The good news for adults is that, while the Wizarding World of Harry Potter is far from mind blowingly amazing, it does have cool elements to it. There's also one piece of advice that in itself can make your visit there turn out somewhere between tolerable and fun. For that, Dear Reader, continue on . . .

What Is The Wizarding World of Harry Potter?
First, here are the highlights of the Wizarding World of Harry Potter, listed in descending order of coolness:
Hogwarts Castle. The 15-story structure towers over the Wizarding World of Harry Potter like Hagrid over the first years. Inside there's a roller coaster-like ride in which you are strapped into a robotic arm and flung around amongst virtual dragons and faux tree limbs as a holographic Harry Potter encourages you to fly faster. While walking to—or standing in line for—the coaster ride, you tour the inside of the castle. The look of it all was taken directly from the Harry Potter movies. Sadly, there are no moving staircases. But you see the Sorting Hat, moving paintings (that are remarkably well done) and Dumbledore's office.
Hogsmeade. The snowy village near Hogwarts plays a mostly ancillary role in the Harry Potter books but is front and center in their Orlando theme park incarnation. Snow-covered buildings filled with shops mentioned in the books line Hogsmeade's street. Our highlight: drinking a frozen Butter Beer, a yummy non-alcoholic drink that's akin to a shortbread smoothie.
The Dragon Challenge. Billed a chance for visitors to partake in the Triwizard Tournament, the Dragon Challenge is not even a Uniwizard Tournament. It's really a rebranded roller coaster that pre-dates the Wizarding World of Harry Potter. While a moderate roller coaster fan will likely enjoy the ride, and perhaps immensely so, an aficionado would not rank The Dragon Challenge among the world's top 50 rides.
[ ALSO ON SCS: A Review of Discovery Cove, Orlando's Un-Theme Park ]
The Flight of the Hippogriff. This young kid-oriented roller coaster definitely coasts more than it rolls. The entire ride only lasts a minute (1 minute and 6 seconds, technically) but kids seem to love it.
Ollivanders. Whatever expectations you have for Orlando's recreation of Harry Potter's famous wand shop we suggest you lower them. This "interactive shopping experience" consists of 11 guests at time (the number was at the insistence of Rowling herself) being guided into a dim room. One is then chosen to have a minor role in a staged trying out of wands at the behest of a Mr. Ollivander (who, on our visit, judging by his slurred speech and uninspired performance, appeared to have had one too many whiskey sours that morning). The whole thing lasts 5 minutes, after which you'll have the right to purchase your own piece of wood "wand" for $30.
Plus, a recently-announced expansion to the Wizarding World of Harry Potter:
Diagon Alley. London's magical shopping high street will, of course, include lots of stores designed to separate you from your hard-earned galleons. There will also be a new Harry Potter-themed restaurant and a Gringotts Bank ride that we could imagine being really brilliant if done right. It will all be located in an entirely new portion of the park, connected to the existing part via a Hogwarts Express train.




How To Visit & Where To Stay
The Wizarding World of Harry Potter can get crowded. Really crowded. And no matter how much the above appeals to you in theory, you'll find the reality of it powerfully unfun after standing in the Florida heat for two hours waiting for your chance to bring an impatient junior on the one minute (and six second) Hipogriff ride.
So here's the key: The night before visiting the Wizarding World of Harry Potter, stay in your choice of the Hard Rock Orlando, the Loews Royal Pacific or the the Loews Portofino resorts. If you heed nothing else we write in this review, heed that.
Why? Because the Islands of Adventure park opens to the general public at 9am. But guests of the above three listed resorts get access at 8am. They also get complimentary use of the express lines and the ability to quickly charge any theme park expenses to their hotel bill.
So what you do is: Be at the entrance gate before the 8am opening and head directly to the Harry Potter section of the Islands of Adventure park. (Everyone else will be doing this too). Do not stop to gawk and take photos of Hogsmeade—there'll be time for that later. Instead, go directly to Ollivanders (if you are so inclined; it is worth waiting in line for 10 minutes at most), then go on the rides and then hang out, shop and take photos. You'll be done by 9:30 or 10am and will have spent virtually none of your Harry Potter stay in line. You are now free to move on to the adjoining Seuss Landing or one of the other Islands of Adventure sections. Or have breakfast. Or head back to your hotel and jump into the pool. Which brings us to . . .
. . . which of those three resorts you should choose? Our review comparison:
The Hard Rock Orlando

The Orlando Hard Rock is the least expensive and arguably most kid-friendly choice of these three. Their pool with sand beach is frustratingly shallow for swimming but does make for a great hangout; on some evenings they play kid-friendly "dive-in" movies that you can watch while in the pool. The Hard Rock is also closest to the Islands of Adventure (there's a water taxi but you can walk in 10~15 minutes). Recommended.

Loews Royal Pacific
The Loews Royal Pacific is a little more sophisticated and has slightly better in-room amenities in comparison to the Hard Rock. It is also tends to be significantly more expensive. Not suggested unless the Hard Rock is sold out.

Loews Portofino
The Loews Portofino is the nicest and most adult-oriented of the three resorts. The hotel's design is supposedly inspired by the Italian Riviera but will only seem so to those who have never actually been to Italy. Still, we greatly appreciate how Portofino's low-rise architecture, strung out along the water, makes the resort seem laid-back and uncrowded.
Wherever you stay, bring your sense of humor to the Wizarding World of Harry Potter, get there early and watch out for you-know-who.
updated: 26 May 2013

LEARN MORE | FIND ORLANDO GUIDEBOOKS | SHOP HARRY POTTER |
More from Spot Cool Stuff:

The Exotic Driving Experience at the Orlando Raceway
A Review of Orlando's Ice Bar
The Best Orlando Hotels & Resorts with Free Wifi
Places That Resemble Dr. Seuss Illustrations ← one's in Orlando
The Brussels Tintin Museum
Install Hidden Doors and Secret Passageways In Your Home
The Best Las Vegas Swimming Pools
Ride the World's Steepest Roller Coaster
The Best Travel Camera for You
Reviews of Waterproof Cases for the iPhone and iPod
The World's 6 Best Bookstores




Inside Hogwarts Castle




Around Hogsmeade





LEARN MORE & TICKETS | FIND GUIDEBOOKS | JOIN US ON TWITTER / FACEBOOK

This article is part of Spot Cool Stuff's Orlando Week—read more Orlando vacation ideas