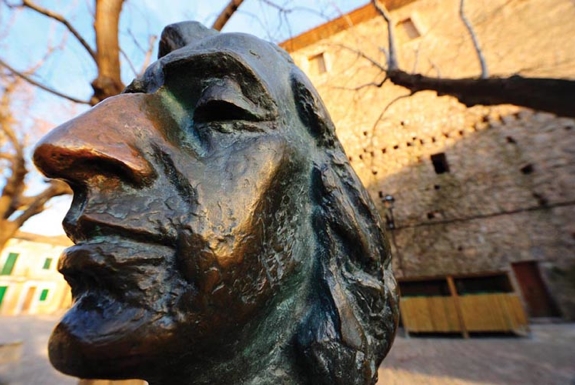 Majorca is full of tourists — mostly British — who flock of the sun-drenched Spanish island in the Balearic Sea for its high-rise hotels, social beach scene and techno-fueled nightlife. Visit specific portions of the island and you'll certainly find all those. But a vacation on Majorca can be completely different from that experience too.
Instead of staying in a high-rise hotels, travelers can book a villa online — there are all sorts to choose from, many surprisingly affordable.
Instead of the packed beaches, check out the old quarter of the Majorcan capital of Palma. Its medieval architecture and maze of cobblestone lanes ooze history — and are surprisingly unvisited.
And instead of the techno nightlife, take a more classical music approach and follow in the footsteps of Chopin.


Frédéric François Chopin, the 19th century Polish composer and virtuoso pianist, spent a winter in Majorca with his mistress George Sand, a French novelist, in the hopes that the Mediterranean air and relaxed island lifestyle would help improve Chopin's failing health.
Sand later wrote a book about their winter in Majorca, which she titled — rather uncreatively — Winter in Majorca. It's an amazing read while you are on the island. Most all the places mentioned in the book still exist. And many of those look almost identical to how they did when Chopin first arrived on Majorca in 1838.
Most important among the Chopin sites on Majorca is the scenic, valley-nestled village of Valldemossa:

Valldemossa makes for a lovely day trip if only to catch a glimpse of life in this simple, traditional Majorcan community. The village has only one tourist attraction, the Royal Carthusian Monastery.
It is in the monastery, in room number 4, that Chopin and Sand lived. There's quite a bit of Chopin memorabilia around the hallways, but Chopin's room (and his piano) has been left in a way that resembles how it was when the composer lived there; the view off of their balcony, one can imagine, hasn't changed at all:

The Royal Carthusian Monastery has an interesting past that includes an unusual knack for drawing creative-types to its relatively meager accommodations. In addition to Chopin, the mystic philosopher Ramon Llull lived here, as did Nicaraguan poet Rubén Darío. But you needn't be a history buff to appreciate a visit to the monastery. The adjacent gardens are beautiful and the architecture all around is very photogenic.
A ticket to enter the Royal Carthusian Monastery will set you back €7.50. That includes admission to a 60-minute Chopin recital on the palace grounds. There are 8 recitals a day (check the schedule outside for times) and they take place even if the audience is comprised of one person:





Valldemosa is not the only Chopin-related site on Majorca. Several travel companies around Palma and the tourist areas can arrange full- or half-day tours of everything Chopin on the island.
published: 15 March 2013

SPAIN GUIDEBOOKS | JOIN US ON TWITTER / FACEBOOK / PINTREST / GOOGLE+

More from Spot Cool Stuff:
The Unusual Spanish Beach That's in the Middle of a Meadow
3 Cool, Yet Affordable, Places To Stay In Barcelona
Mexico's Holbox Island: The Un-Cancun
The Best Wheeled Carry-On Luggage
Elsewhere on the web: