Spot Cool Stuff has a love of vintage travel guidebooks, the older the better. In one our finds, a guidebook to Afghanistan written in the late 1800s, the authors described the Buddha statues around of the town of Bamiyan as an over-crowded tourist trap. Contrast that with the whole of the last three decades, during which absolutely nowhere in Afghanistan could remotely qualify as an "over-crowded tourist trap." That, sadly, includes the Bamiyan Buddha statues—they were mostly destroyed by the Taliban in 2001.
The point being: Things change. A place that's uninviting now might become completely pleasant in the future. A great travel destination now could not be so much later.
With that in mind, someone (we aren't even sure who) designed an infographic on the 10 Places to See Before They're Gone.
Spot Cool Stuff, it should be said, doesn't completely agree with the graphically-depicted list. The infographic's creators definitely had an environmental bent. In general, we think travel places are more likely to quickly "disappear" for political reasons. For example, now is the time to visit old Cuba, in our view, since any change in government there would likely bring with it swift and stark modernization. Other wonderful places on the planet are rapidly being encroached on by development and modernization; Yunnan province in China comes immediately to mind.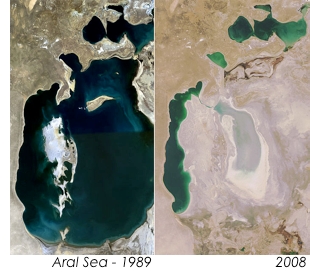 Even if you consider only environmental factors, we think there are places not on the infographic in greater danger of being lost. In Central Asia, the the Aral Sea is now the Aral Seas. What was once the world's fourth largest lake has rapidly shrunk to a collection of over-sized puddles. A dam might save the very northern part of the "sea," but if you want to see the rest we'd suggest you stop reading this immediately and book your flight to Uzbekistan. (Not incidentally, the saga of the sea is told in the wonderful book The Devil and the Disappearing Sea: A True Story About the Aral Sea Catastrophe).
We don't share all of the infographic's pessimism either. The Taj Mahal, while certainly endangered by pollution, is being restored and protected at this very moment. Spot Cool Stuff has personally seen the jewel of Mughal architecture more than a dozen times over the last 20 years and found local authorities treating the building with increased care and protection every time we visited. We'd be very surprised if the Taj closed to tourists within five years, as the infographic warns.
Still, we love a good list. We love learning the opinions of others. And we love any excuse to travel.
So check out these places that you should travel to before they might be gone. And feel free to add your own destinations in the comments section, below.
published: 7 Aug 2012

JOIN US ON TWITTER / FACEBOOK / PINTREST |
Related posts:
Infographic: Guide to Travel Happiness
Travel to Places That Are So Bad, They're Good
5 Delicious Foods (That Can Kill You)





Elsewhere on the web:




See more cool infograhics