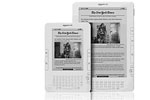 spot cool stuff TRAVEL
Amazon offers two "current" versions of its popular e-book reader: the Kindle 2 and the Kindle DX.
Both Kindles are among Spot Cool Stuff's favorite gadgets, especially for traveling. But why? And what's the difference between the two Kindle models? And which one is better?
For the answers, Dear Reader, continue on . . .
---