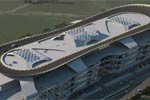 spot cool stuff TRAVEL
Chances are that you have never visited an auto dealership purely for an afternoon of fun. That may change once construction is complete on a new car showroom megaplex.
Said new car showroom megaplex is not located in the United States, China or Germany, as you might expect. Instead, the Autopia Europia is being built in a suburb of Istanbul, Turkey. The massive building will be the world's largest car dealership. Though we'd argue it will be much more than that.
---