When Spot Cool Stuff travels we love staying in a room with a view. In Montreal, there's no better hotel room view than that offered from the upper rooms at the Montreal Marriott Chateau Champlain.
Spanning to a height of 139 meters (454 feet), the Marriott Chateau Champlain is the tallest hotel in the city (and its 9th tallest building of any sort). The vista from those lofty heights is framed by the hotel's most distinctive feature: the half-moon windows.
From inside the rooms, the view through those windows looks like this: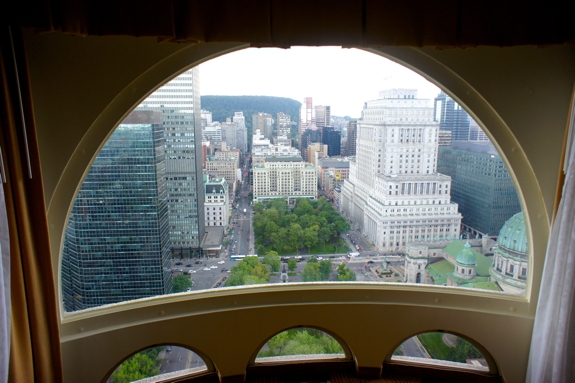 Spot Cool Stuff was in Montreal researching cool family travel ideas, so we were especially pleased with our room's floor-level baby-sized half-moon windows, which captivated our 11-month old like this: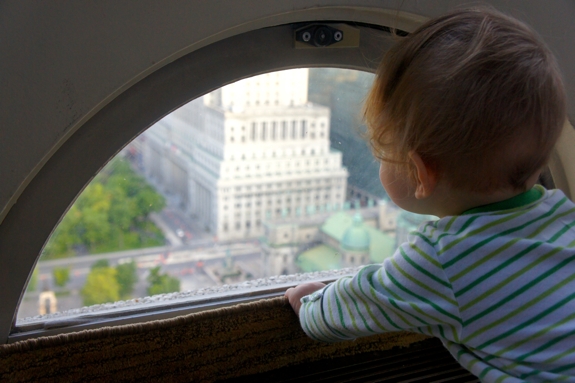 North-facing rooms (like ours) offer views of downtown and out to Mount Royal. Rooms facing south and east look out over the Saint Lawrence River.
Regardless of the direction your window faces, to have an optimum room view during a Chateau Champlain stay the key is to get a concierge-level room. These are all on the upper floors and, even without the superlative view, would be worth the $20 surcharge. That's because they come with access to the concierge lounge which offers a complimentary breakfast, mid-day snack, afternoon tea , hors d'oeuvres, late night snack and dessert on weekdays. While the dessert portion of that lineup is rather lame (it consists of dry cookies and not much else) the rest is surprisingly good for free fare. And, of course, all that food comes with a view too:
[ ALSO ON SCS: The Best Hotel Room View of Niagara Falls ]
As a place to stay with a family, the pool is the one aspect of the hotel that disappoints. It's small and cold and, oddly, has no shallow end†.
Other than that, the Montreal Marriott Chateau Champlain is certainly better than your average Marriott and, by Montreal standards, offers good value for the money. Among the features we liked:
• In-room wireless internet that's free — and fast.
• Friendly, efficient service. Even at the sub-par pool, an attentive pool staff person preemptively offered us complimentary use of a floaty for our baby.
• A superb location, within walking distance of downtown, the Bell Centre, Saint Catherine Street shops and Chinatown.
• Direct access to the Bonaventure subway stop. An elevator from the station brings you to the hotel lobby. Take the subway two strop from Bonaventure, walk eight minutes, and you are in Old Montreal.
published: 14 Sept 2013

LEARN MORE & BOOK | FIND MONTREAL GUIDEBOOKS |
† The entire pool is a uniform 1.5 meters (5 feet) deep.

LEARN MORE & BOOK | JOIN US ON TWITTER / FACEBOOK / PINTREST / GOOGLE+

More Montreal travel from Spot Cool Stuff:
An Overview of Montreal Family Travel Ideas (That Are Fun For Adults Too!)
The Rowdy, Medieval fare at the L'Auberge du Dragon Rouge Restaurant
A Visit to the Montreal Biodome
The Living Sculptures at the Montreal Botanical Gardens