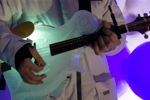 spot cool stuff TRAVEL
Incredibly fragile, many of the instruments hang from the ceiling during concerts so as not to be melted by their musician's body heat.
Ice and music. Depending on your age, those two words might conjure up the infamous 80s band Vanilla Ice and their hit "Ice Ice Baby" or the more recent rendition of the song by North Carolina school administrators announcing a snow day. But what's really too cool (too cool) is the Swedish musical group aptly named Ice Music, whose instruments are carved out of ice.
---