A joke we overheard in a coffee shop in Italy:
Question: What's the difference between yogurt and the United States of America?

Answer: Yogurt has culture.
Okay, maybe that's a little funny. The problem is, it isn't true. The United States is full of culture. It isn't as gourmet as, say, Italy. Nor is it as old as China or as enveloping as India, or as snobby as France. But it most certainly is there. American culture is diverse, interesting, and, we'd argue, it's one of the most fun national cultures on the planet.
Want proof? Below is our recommendation for five distinctly American cultural experiences that you are unlikely to find written up in any guidebook.
Note: For this post we only considered experiences that are available across the country. Anything that's exclusive to a specific ethnic group or region — attending Burning Man in Nevada or eating gumbo in New Orleans or getting yelled at by a taxi driver in New York City, for instance — was disqualified. We also nixed holiday events, like the 4th of July American Independence Day.
While this post was written with non-American travelers in mind, those from the United States may also gain some travel tips by reading on . . .




Attend a State Fair
Best state fair: Minnesota—St. Paul
Were you to attend every state fair you would be exposed to an incredible range of Americana — and an incredible number of calories.
All 50 of the American states run a festival celebrating that state's music, crafts and farm products. Pageants, parades, carnival rides, unusual contests and street shopping are also state fair staples. But the biggest draw might be the food.
State fairs are where local foods are celebrated, created and, often, fried and/or placed upon sticks. It was the California State Fair that brought the world fried Kool-Aid, for instance. At the Wisconsin State Fair you can feast upon chocolate-covered bacon on a stick. Iowa has the hot beef sundae. Indiana features deep-fried Twinkies.

State fair enthusiasts can (and do) argue over which is the best. The state fairs of Texas, Oklahoma, New York and Wisconsin in particular have their proponents.
Spot Cool Stuff's vote for the best state fair: Minnesota. For one thing, the Minnesota State Fair, held in the capital of St. Paul, offers more foods on sticks than any other. The 2012 Minnesota fair had more than 80, including fried spaghetti (pic to right) and key lime pie. (The selection of food not on sticks is amazing too, with Donna's Barbeque tops). Other notable features include the high school rodeo, tractor races, butter sculpture carving, various animal shows (from pig contests to watching animals give birth) and an assortment of rides that spin you around and fling you up in the air. Minnesota's state fair is also full of educational opportunities and cultural exhibits.
If Minnesota's state fair does not match your travel itinerary, consider attending whichever one does. Each has its charms. Each also requires lots of cash, an open mind and an empty stomach.
LEARN MORE | JOIN US ON TWITTER / FACEBOOK |
When: Fair dates vary between states; most run for a few weeks sometime between late June and early October.
If you go: Bring lots of cash. It isn't so much that attending is necessarily expensive as there are lots of attractive ways to blow through money and credit cards generally aren't accepted.
Family friendly: Yes
For your bookshelf: Blue Ribbon Winners: America's Best State Fair Recipes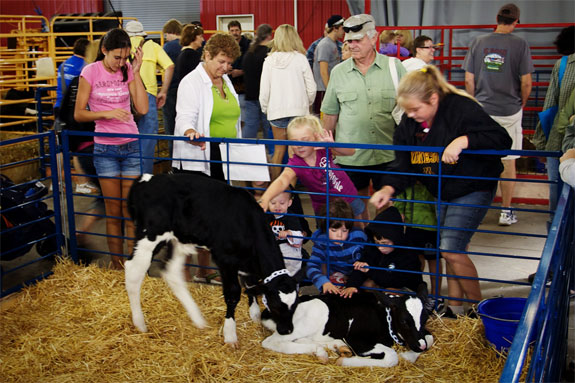 [via
m. treatzone
]

[via
m. treatzone
]


Yell at The Rocky Horror Picture Show
Best Theater For Watching Rocky Horror: Nuart Theater—Los Angeles

The Rocky Horror Picture Show is a non-scary horror movie about a transvestite mad scientist. Do not rent it. Do not watch it at home. The movie itself is terrible. But when seen in the theater Rocky Horror becomes so bad that it is good. That's because theater goers make the movie interactive. In a way that's partly spontaneous but mostly choreographed, audience members loudly heckle the movie characters (and occasionally each other) during the showing. They also use props to make the movie come alive in a theater — throwing rice after an on-screen wedding, for instance, or shooting squirt guns up in air to simulate rainfall. The atmosphere can get raucous, but it's all in good fun.
Several theaters around the United States screen Rocky Horror (click here to find showings) but our favorite is easily the Nuart Theater in Los Angles. They've been showing Rocky Horror every Saturday at midnight since 1988. Many audience members come dressed as characters and an excellent live cast acts out the movie on stage (and, occasionally, in the aisle) mimicking the on-screen action. If you aren't sure what to do, don't worry. Follow along as best you can and yell "Dammit, Janet!" at regular intervals.
When: Theaters that do screen Rocky Horror usually do late on either Friday or Saturday night. Even theaters who don't regularly show it will do so on Halloween (October 31st).
If you go: Rules as to what you can and can't use as props vary between theaters. The Nuart Theater conveniently sells a prop kit at the door for $3.
Family friendly: No! In addition to most Rocky Horror showings being very late at night, audience participation can be rather profanity-laden.
For your bookshelf: The Rocky Horror Show Sing Along


Cheer at a High School Football Game
Best high school for watching football: Permian HS—Odessa, Texas
Baseball, basketball, volleyball and competitive hot dog eating are among the many sports that were invented in the United States. None have become so ingrained — and so ignored by the rest of the world — as football. (American football that is, which is a sport surprisingly devoid of players' feet touching the ball.)
Nearly every large public high school in the United States has a football team, but in small town America these teams can become central to a community's identity. Most high schools require tickets for their games, but unlike football games at the pro or top college level, admission is inexpensive and rarely sold out.
If you can't see a football game in person, you can get a good feeling for the experience by watching the movie Friday Night Lights. The film is about the Permian High School football team (go Fighting Panthers) in Odessa, Texas. In real life, the high schools around Midland-Odessa in general — and Permain High School in particular — offer the most vivid travel experience.
LEARN MORE | WATCH FRIDAY NIGHT LIGHTS |
When: High school football season runs from August until December. The vast majority of games take place on Friday evenings.
Family friendly: Yes, but there usually aren't activities specifically for young kids.
For your bookshelf: Friday Night Lights: A Town, a Team and a Dream


Attend a Drive-In Movie
Best Drive-In Theater: Shankweiler's—Orefield, Pennsylvania
In the 1960s there were more than 4,000 drive-in movie theaters in the United States. Then, they were the place for high school and college kids to get together, ostensibly to watch a film but mostly to make out.
Starting in the '70s, the invention of the VHS player, the increasing affordability of televisions, the decreasing affordability of real estate and the easier access to alternative make-out spots all combined to dwindle the drive-in movie theater population down to a few dozen.

It was not until a decade ago that the drive-in theater started to make a comeback. And not only in the United States. Belgium, Canada, Australia and even India all have theaters where you can drive in to watch a movie from your car. But in America, drive-in movie going is a cultural tradition. These days, you won't find many kissing college students there. Most drive-in movie goers fit into two categories:
1) Elderly couples who watch the movie sitting on lawn chairs on the bed of their pickup trucks;
2) Families with kids who run around (often wearing pajamas) eating ice cream, playing arcade games and chasing each other around while, perhaps, catching an occasional glimpse of the movie.
Despite the rash of new drive-in theaters, the best one might also be the oldest. Shankweiler's, outside of Allentown, is the second oldest drive-in (constructed a year after Hollingshead's in New Jersey) and is the very oldest still in operation. Since 1934, Shankweiler's has been famous for its enormous screen, tasty popcorn and policy of allowing patrons to watch a double feature for a single admission fee.
LEARN MORE | JOIN US ON TWITTER / FACEBOOK |
When:
Many — though not all — drive-in movie theaters are seasonal (May-September). It has to be dark to see the screen, so the first showing of the day won't be until at least 30 minutes after sunset.
If you go: Don't go if you really want to see the movie that's playing. Drive-in movie atmosphere is more the point than the movie itself. Also, at the risk of stating the obvious, you'll need a car to attend.
Family friendly: Yes
For your bookshelf: Cinema Under the Stars: America's Love Affair with Drive-In Movie Theaters


Go Tailgating at a Jimmy Buffett Concert
Best location to see a Jimmy Buffett show: Florida

It's five o'clock somewhere. And that's but one reason to take in a Jimmy Buffett show when you visit the United States. Margaritas are another. The chance to wear a hat with a stuffed parrot on top is a third.
The United States arguably has the most vibrant music scene of any country in the world. Jazz was born in the United States. So was Elvis, Kenny G, Lady Gaga and Snoop Dog. But if you are looking to attend that one concert most teeming with American culture, we'd point you to Jimmy Buffett.
Maybe not the Buffett concert, per se. But the revelry that happens in the parking lot before the concert — that's something special. Fans of Jimmy Buffett (known colloquially as "Parrotheads") are a colorful bunch, famous for their pre-concert festivities. To do a Buffett show right, you'll want to rent an SUV and show up many hours before the concert with a grill, copious amounts of food and more alcohol than you can safely drink. Appropriate dress includes grass skirts, colorful shirts and coconut bras (for both men and woman). The atmosphere does occasionally tend towards hedonism — topless women, gratuitous making out and drunken games in makeshift pools are not uncommon. You will see people passed out; they might or might not be wearing pants. Still, the spirit is one of friendly, communal fun.
Every Buffett show is great but there's something special about experiencing Jimmy in his home state of Florida. It's especially worth the trip to see a concert in Key West or Palm Beach. Click here to check tour dates and buy tickets. Salt, salt, salt.
LEARN MORE | GET BUFFETT TICKETS | BUY BUFFETT TUNES |
When: Buffett tours every summer, typically from late May through early September. By tradition he performs on Tuesdays, Thursdays and Saturdays.
If you go: Bring something to share — drinks, leis, hats or whatever — and make instant friends.
Family friendly: It's okay to bring a teen into the concert (if the venue allows) but the pre-concert tailgating is an adult affair.
For your bookshelf: A Pirate Looks at Fifty

Have ideas of your own? Share them in the comments section, below:
updated: 4 July 2014 (USA Independence Day)

Related posts:
3 Strangely Colored Beaches in Hawaii
Real Places That Look Like Dr. Seuss Illustrations
Review of the Best Travel Cameras




JOIN US ON TWITTER / FACEBOOK / PINTREST / GOOGLE+ / LINKEDIN / TUMBLR
Read more cool United States vacation ideas