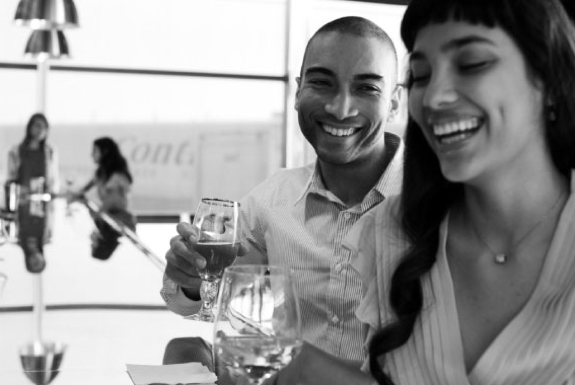 Most airport bars are exactly what you'd expect: a rather dull-looking spot in between terminals where you can wet your whistle during a layover. But every so often, a bar, pub or alcohol-serving restaurant will go above and beyond merely meeting the needs of the travel-weary by supplying a truly special experience to make your trip that much better.
That's the case with these five cool airport bars. While you can find decent watering holes in most of the world's airports, these five provide a truly transcend the experience for downing a beverage before or during your air travel itinerary.

Bubbles Seafood & Wine Bar
Schiphol Airport, Amsterdam (AMS)
Many airport bars serve champagne. Only in Amsterdam's airport, at the Bubbles Seafood & Wine Bar, can you choose from more 50 varieties! Bubbles also specializes in local herring dishes (particularly the traditional raw Dutch plate with bread and onions) and other choice seafood meals. It's all served up in a cool atmosphere that features a large saltwater aquarium.
Where to find it: The first floor of Departure Area 1 next to Cafe Chocolat.
If you go: Holland Casino offers in-airport gambling in Departure Hall 2 between gates E and F, if you need to win some extra money for your glass of bubbly.
LEARN MORE | BUY AMSTERDAM GUIDEBOOKS |

Pool Bar at SIN
Singapore Changi Airport (SIN)
Among the amenities you'll find at Changi — arguably the coolest large airport in the world — are a live butterfly garden with a 20-foot waterfall, a nature trail, a four-story high slide, a forest-themed indoor playground, two free movie theaters and swimming pool with its own bar! The pool (and next door jacuzzi!) cost S$13.91 for those who aren't staying at the no-frills Ambassador Transit Hotel; that amount brings with it use of the shower area, a towel and a complimentary non-alcoholic beverage. Don't mind if we do.
Where to find it: Terminal 1, top level, across from the Ambassador Transit Hotel.
If you go: Changi also has three music bar lounges where you can take in a live performance. Of them, Harry's Bar in Terminal 3 has the coolest vibe — and it's open 24 hours.
LEARN MORE | BUY SINGAPORE GUIDEBOOKS |

Le Grand Comptoir
George Bush Intercontinental Airport, Houston (IAH)
Although the city doesn't make top 10 must-visit lists like the one on Dialaflight's, Houston is worth the trip (or at least a layover) for one damn-good reason: Le Grand Comptoir. The world class bar has received numerous accolades for its impeccable selection of wines. Seriously, you can find over 100 (!) selections, nearly half of which are vintages to be enjoyed by the glass. It doesn't hurt, of course, that the design of the bar is equally as classy.
Where to find it: Terminal C, behind security.
If you go: Save room for food! Even on a full stomach, the award-winning menu will make your mouth water just looking it. There's the divine-sounding beef carpaccio, crab bake with its signature sauce and seasonal veggies, and last but certainly not least, the center cut filet topped with a mushroom demi-glace. Drool.
LEARN MORE | BUY TEXAS GUIDEBOOKS |

Airbräu
Munich Airport (MUC)
Regular readers may remember Spot Cool Stuff's review of Munich's airport beer garden. In addition to be a cool place to drink a beer, Airbräu is the world's only in-airport brewery. That means you can get an up-close look at how the beer you're drinking was actually made, all while enjoying the live music and acts that often perform there.
Where to find it: Inside the Munich Airport Center (i.e. outside security) between Terminal 1 and 2. There's also a small Airbräu behind security in the departures area of Terminal 2.
If you go: When you are driving to the airport and intend to hang at Airbräu, be sure to park in the area designated P20. Why? Because if you spend €10 at Airbräu they'll give you two hours of free parking. And if you run up a bill of €20, well, that's five (!) hours of parking on the house.
LEARN MORE | BUY MUNICH GUIDEBOOKS |

[ ALSO ON SCS: The 10 Coolest Airlines in the World ]

De Loose Mongoose Bar
Terrance B. Lettsome International, Tortola, BVI (EIS)

Could there be a more un-airport bar airport bar? De Loose Mongoose is the sort of place that you could find on Spot Cool Stuff's review of the best Caribbean beach bars. Because that's where you'll find it, on the beach, by the Tortola airport terminal, with stunning views of Trellis Bay from the bar deck. There's no cooler airport bar experience than sipping on one of De Loose Mongoose Bar's (in)famous "No See Um" frozen rum cocktails while laying in a hammock strung between palm trees.
Where to find it: From the main airport terminal, walk towards the water, take your first right (onto Trellis Bay Rd) and then your first left down a gravel driveway. It's approximately a five minute walk.
If you go: Try one of the lobster dinners, tasty homemade conch fritters and margaritas that visitors rave about.
LEARN MORE | BUY CARIBBEAN GUIDEBOOKS |
published: 24 Jan 2014

Cheers to Harold Sims for guest writing this post.

More from Spot Cool Stuff:
The Best Wheeled Carry-On Luggage
5 Cool, Luxurious Airport Hotels
MeetAtTheAirport and America's Best Airport For Finding a Date
A Review of Jumbo Hostel: Stockholm's Airplane Airport Hotel
St. Maarten and the World's Best Planespotting