Oregon's natural beauty has been celebrated ever since Lewis and Clark first paved the way. With its epic coastlines, towering redwoods and undulating sand dunes, it's no wonder manifest destiny brought Americans here.
But underneath Oregon's beautiful exterior, lurks a completely different world. A world of bizarre, off-beat and downright odd roadside attractions that will challenge, disrupt and send askew any previous opinions you held about the state. Here are five of the best:

Lava River Cave— Bend, Oregon

Sure there's no thunderous ash spewing eruptions or rapidly moving molten lava chasing you down, but this is hands down the most fun you can have at an inactive volcano.
Over thousands of years cooling lava flows have carved out narrow caves in the landscape known as "tubes." Stretching some one mile into the earth, brave souls can venture deep into the pitch black darkness of the Lava River Cave, navigating completely by feel (though lanterns are available to rent for the rest of us).
The consistently cool temperatures of the cave (typically 42° F, 5.5° C) has lead to its use as a make shift meat storage facility. So don't be alarmed when you step on a rump roast or two as you make your way down the tube.
LEARN MORE | FOLLOW US ON TWITTER |
[via
Jeff Sullivan
and
masonmarsh
]






Harvey: The Giant Rabbit Statue—Aloha, Oregon
As America's largest and most sacred half-man-half-rabbit, Harvey is worshipped more than the Easter bunny around these parts. In fact, an estimated 2500 drivers a day pay tribute to the statue, usually with a firm blast of their horn. While no official census has been taken, "Harveyism" just might be Aloha, Oregon's most popular religion. We say, amen to that.
You'll find Harvey standing guard at the doors of Harvey Marine, a fishing supply shop dozens of miles from the nearest body of water (an equally strange phenomenon in itself).
LEARN MORE | FOLLOW US ON TWITTER |
[via
Hypernym
]

Prehistoric Gardens—Port Orford, Oregon

While it may lack the flash or high tech spectacle of Jurassic Park, Ed Nelson's Prehistoric Gardens is far from going extinct. Set in the depths of the lush Oregon rain forest, the prehistoric haven is home to some two dozen life-sized dinosaurs, lurking in the thick underbrush.
Fortunately for you, the rather docile state of the dinos (they're fibreglass carvings after all) eliminate any need for electric fencing or the ability to outrun a raging velociraptor.
LEARN MORE | FOLLOW US ON TWITTER |

Noah's Ark Restaurant—Winston, Oregon
Amongst the rolling hills of Oregon's Gold Country, lions, tigers and chickens march across the terrain in perfect unison. Not even the Serengeti can boast about bringing such diverse group of animals together in the wild.
Only here the animals here aren't actually wild; they're wooden replicas of Noah's chosen few. (Hey at least they won't bite).
If viewing wooden fauna isn't quite your thing, head up the hill to take a tour of Noah's Ark itself. Should an apocalyptic flood suddenly strike, you'll be kept safe and have the fortune of dining at Noah's Galley for 40 straight days and nights. The on board restaurant serves up a smorgasbord of Noah's favourite animal pairings including cattle, poultry and swine. Not surprisingly, unicorn is absent from the menu.
LEARN MORE | FOLLOW US ON TWITTER |

House Of Mystery Oregon Vortex—Gold Hill, Oregon
It's the place Isaac Newton never wants you to see. Here gravity is turned upside down, fundamental physics is brought into question, tennis balls roll uphill and broomsticks stand upright on their bristles.
The true source of the disturbance is unknown, though many theories abound. Is it an electron imbalance, a top secret underground device, or a mere optical illusion? You'll have to stand a broom on its bristles and make your own conclusions.
Don't try navigating here by compass though, your instruments will be thrown awry and you'll end up somewhere near Walla Walla, Washington.
LEARN MORE | FOLLOW US ON TWITTER |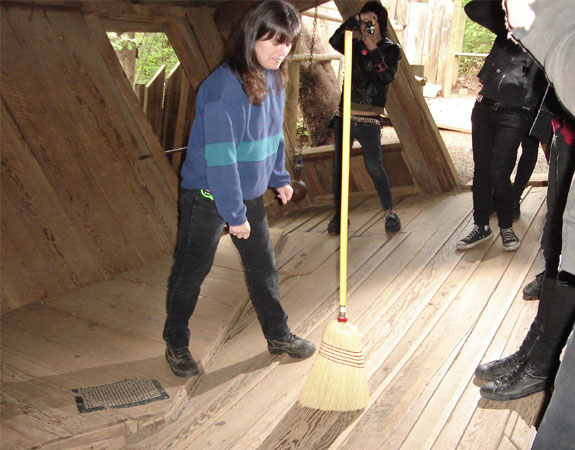 [via
psychodaisy
]





published: Jan 2010

SEE MORE FROM THIS AUTHOR | READ OREGON GUIDES | FOLLOW US ON TWITTER
Unusually large thanks to Sam Zivot for guest writing this post. Sam is a blogger and Marketing Manager for Jurnii Car Rentals, America's new travel focused online rental car company. He writes frequently for the Jurnii USA Car Rental blog and enjoys travel in the U.S and abroad.
Related posts & pages:
Oregon's Cedar Creek Treehouse Hotel
7 Incredible Upside-Down Houses
The Best Spot Cool Stuff Travel Blog Posts
Reviews of Unusual Hotels, Offbeat Museums and Bizarre Restaurants