The day may come when machines overthrow the human race and our robot overlords force us mortals to serve at their will. Until then, we can suggest going for a meal at the Hajime Robot Restaurant in Bangkok, Thailand.
At the Hajime robots not only serve food to customers but also dance for them. (This makes the Hajime Robot Restaurant is the only establishment in Bangkok that has a tagline promising to "serve your every need" and that features dancing waiters and that's also child-friendly).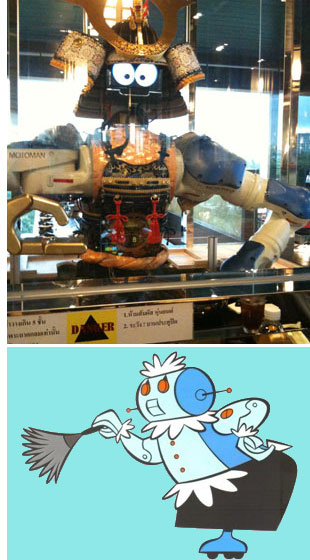 The way it works is: Customers sit at booths on either side of a long isle. At each booth is a touchscreen upon which you place your order. When your meal is ready the legless robot—who, in a stunning lack of creativity, has been named "Robot"—wheels down to the kitchen in a way reminiscent of Rosie in The Jetsons. Except, instead of wearing a maid's outfit, Robot is dressed like a samurai.
Robot the robot then picks up your food and brings you your order. Or, you should hope it's your order. You may need to be a high level computer programmer to explain to Robot that you asked for an "extra fork" and not "more pork."
When not delivering customer orders, Robot might begin wheeling back and forth and swinging its arms to the beat of Jay Tee hip hop tunes. This display isn't exactly a thing of beauty but there is something about it that forces a smile: Thirty years ago "the robot" was a type of dance. Today we have robots dancing.
What's easy to loose in the robot gimmick is that the Japanese fare at Hajime is very tasty. Meals are prepared by real flesh-and-blood humans (which is a shame, in a way, since the restaurant could have been the first to literally have an iron chef). The specialty of the house is shabu-shabu, which is a type of hot pot in which you boil meats and vegetables. The prices aren't much higher than similar quality Japanese barbecue joints around Bangkok.
The Hajime Robot Restaurant is in the new Monopoly Park mall, a Dr. Seuss-looking building in the eastern part of the Thai capital. If you go, bring a can of lubricant oil—you'll need something to leave Robot as a tip.
published: 14 Jan 2011

MONOPOLY PARK INFO | GUIDEBOOKS | JOIN US ON FACEBOOK |
Related posts:
The Best Thailand Island For You
Two Restaurants ABOVE Bangkok
Cabbages & Condoms: The Thailand Restaurants of Safe Sex
The Erector Spykee Transforming Spy Robot
The Arun Suite: Spot Cool Stuff's Favorite Bangkok Hotel Room






MONOPOLY PARK INFO | THAILAND GUIDEBOOKS | JOIN US ON TWITTER / FACEBOOK
Read more reviews of unusual restaurants