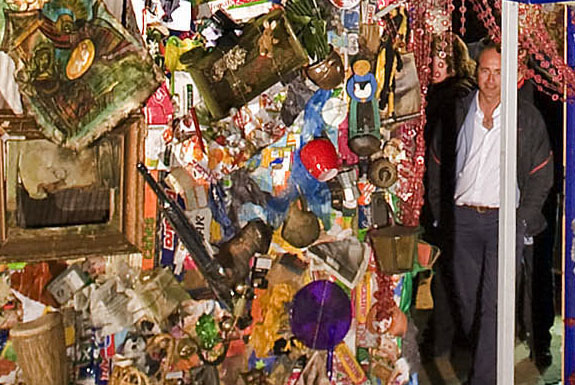 Every city has a selection of hotels that their detractors would describe as "rubbish." But only Rome has a hotel that's literally rubbish. There, in the center of the city near the Castel Sant Angelo, is the Corona Save The Beach Hotel. It is the world's first to be made of garbage.


As the hotel's name implies, all of the rubbish used to make this two-story, five-room building came from beaches in Europe. Old toys, rusted hubcaps, mangled musical instruments, cardboard boxes, torn trousers, crushed cans, old tires and even mannequin limbs are among the 12,000 kg (more than 13 tons) of trash that was used in the construction. Practically the only objects in or of the hotel that weren't found on a beach are the floorboards, support beams and sleeping sheets.
The Corona Save The Beach Hotel is more about conveying an artistic statement about the state of beaches in Europe than it is about providing accommodations. Indeed, the hotel is scheduled to close on June 7th, shortly after it opened. Every room for every night has already been booked. Supermodel Helena Christensen was the first visitor. We like to imagine that among the other guests was at least one husband who promised his wife a "dirty night in bed."
In case you are wondering: All the trash used to make the Corona Save The Beach Hotel was disinfected and does not smell of garbage. Though that is pretty much the only luxury, if you can call it that—the hotel does not have running water or electricity.
After June 7th you can still check out the exterior of the Corona Save The Beach when you are in Rome. At least for the near term. It is possible that the trash structure will be moved to another location. Spot Cool Stuff, for one, hopes that it will become an operational hotel again in the future. Visit the hotel's website for the latest.
published: 4 June 2010

LEARN MORE | READ | FLY THERE | FOLLOW US ON TWITTER |
Check out these other uses for recycled materials:
The Thailand Temple Made From Beer Bottles
Holland's Controversy Tram Inn
Furniture Made From Shopping Carts
Samsung Reclaim: The Free Smartphone Made From Corn
Buildings Made From Shipping Containers




LEARN MORE | READ | FLY THERE | FOLLOW US ON TWITTER
Read more articles about eco-travel