Chopsticks have been used as eating utensils for some 4,000 years now (before that we suppose people used regular sticks). Today they can still among the smallest, most eco-friendly and useful pieces of travel gear around. Travel with your own pair of chopsticks and you'll help save the 25 million (!) tress that are cut down each year for the sole purpose of making disposable chopsticks. (The environmental impact of disposable chopsticks has even caused China to implement a special tax on them). You'll also insure that you always have sanitary utensils to eat with; in many parts of the world that is no small thing.
Spot Cool Stuff gave numerous travel chopsticks a try. For our purposes we only considered chopsticks that folded up or collapsed down in size in some way. Regular chopsticks that came in a travel case were excluded.
Here's a rundown of our favorites in our order of preference:

Snow Peak Carry On Chopsticks
The Carry On Chopsticks by Snow Peak is our choice for the best pair of travel chopsticks. At around US$30 on Amazon, they are not the cheapest. And the screw-together design isn't the most convenient. But these chopsticks, designed and made in Japan, do have the best feel of any travel chopsticks we've tried—light, sturdy in hand and comfortable to use. The finished wood tips don't retain any odors or food taste.
Another cool feature of our favorite travel chopstick: The stainless steel grips are made from recycled baseball bats.
Approx price: $30
Type: Screw together
Chopsticks weight: 28g (1 oz)
Case type / weight: Canvas with carry strap / 23g (0.8 oz)
LEARN MORE & BUY | JOIN US ON TWITTER / FACEBOOK |

Yamazaki My Chopsticks
Spot Cool Stuff, being chopstick purists, prefers our traditional Asian eating utensils to be wood or bamboo (at least for the lower eating portion). The Yamazaki My Chopsticks are made entirely of stainless steel. That makes them more practical than typical wood chopsticks; the My Chopsticks are more durable, lighter and more germ-resistant. The collapsible design is also convenient and they are dishwasher safe. Given that, chopstick progressives may prefer the Yamazaki My Chopsticks to the Snowpeaks (above).
Approx price: $14 for set of 4
Type: Kikkerland Collapsible Travel Chopsticks
Chopsticks weight: 28g (1 oz)
Case type / weight: Stainless steel with choice of red, silver or black / 30g (1.1 oz)
LEARN MORE & BUY | JOIN US ON TWITTER / FACEBOOK |

TripStixx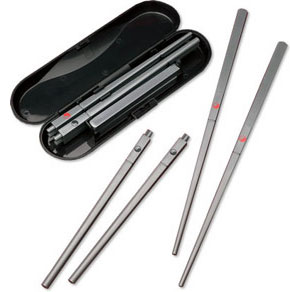 Not to be confused with regular Styx, TripStixx are the travel chopsticks we'd suggest for connoisseurs of Asian cuisine. They are the only travel chopsticks to allow for two interchangeable tips: a pointed tip for sushi and a rounded tip for noodles and banquets. We find the Tripstixx's high-density polycarbonate material difficult to get used to. The carrying case is also significantly more bulky than competitors. If neither of those downsides bother you, you'll likely find using the well-crafted TripStixx to be The Best of Times.
Approx price: $15
Type: Push together
Chopsticks weight: 35g (1.2 oz)
Case type / weight: Hard plastic / 65g (2.5 oz) with extra tips
LEARN MORE & BUY | JOIN US ON TWITTER / FACEBOOK |





Kikkerland Collapsible Travel Chopsticks
The Kikkerland Collapsible Travel Chopsticks are similar to the Yamazaki My Chopsticks (above) but with two advantages and disadvantages.
The disadvantages: The Kikkerland chopsticks are not as durable or well made as any of the others reviewed on this page. They are also a little on the thin side and thus feel uncomfortable after prolonged use.
The advantages: The bottom tips of the chopsticks are made of bamboo. And Kikkerland's are among the cheapest good travel chopstick options.
Approx price: $9
Type: Collapsible
Chopsticks weight: 28g (1 oz)
Case type / weight: Hard plastic with pocket clip / 20g (0.7 oz)
LEARN MORE & BUY | JOIN US ON TWITTER / FACEBOOK |

Brunton FlipSticks
The Brunton FlipSticks are the world's first folding bamboo chopsticks. The lower portion is great; it has the feel of a high-end chopstick. Sadly, Spot Cool Stuff found the stainless steel top half sub-optimal—it's a bit too wide and weights the chopsticks awkwardly. However, that same design makes the FlipSticks the lightest travel chopsticks around (if you exclude the weight of the case). Choose them if weight is a top priority.
Approx price: $16
Type: Folding
Weight: 23g (0.8 oz)
Case type / weight: Canvas / 23g (0.8 oz)
LEARN MORE & BUY | JOIN US ON TWITTER / FACEBOOK |
published: 11 Feb 2011


Related posts:
Amazing Views: Top 10 Destinations For Rice Terraces
The Best BPA-Free Travel Water Bottles
Dangerous Gourmet Adventures: 5 Tasty Foods That Can Kill You
Vibram, Newton and Barefoot Running Shoes
Digital Cameras for Your Next Vacation