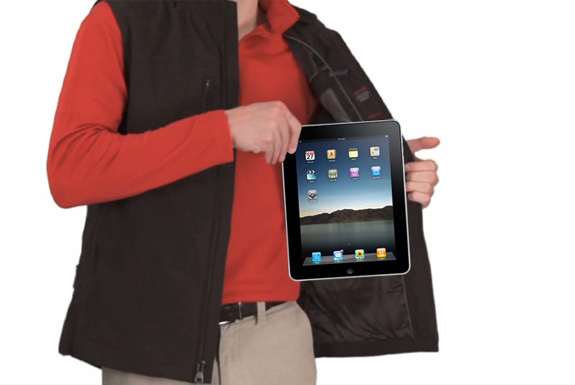 Well that didn't take long. A few short weeks after Apple started selling the iPad a manufacturer started selling iPad-compatible clothing. That manufacturer is Scottevest; Spot Cool Stuff regulars might remember our review of Scottevest's full-of-pockets travel jackets.

In fairness, at least some of the products in Scottevest's iPad compatible line existed long before Apple announced the specs for its sleek tablet computer. The Scottevest Essential Jacket (a Spot Cool Stuff fave), for example, happened to already have pockets that fit the iPad perfectly. The Scottevest TravelVest (animated photo to the right), on the other hand, seems designed more with the iPad specifically in mind.
Other products in Scottevest's iPad compatible line include a fleece jacket, a soft shell jacket and a windbreaker.
Spot Cool Stuff doesn't find Scottevest offerings particularly fashion forward. Their jackets especially have something of a 1980s look. But their clothing is extremely well made. And their iPad pockets are perfectly designed. You won't move in such a way that might break or crack the iPad. And Scottevest pockets don't tend to bulge even when stuffed full; put an iPad in the TravelVest and it is unlikely anyone will notice its presence there.
All of which makes Scottevest an excellent companion for traveling geeks.
published: 29 July 2010

LEARN MORE & BUY | GET AN iPAD | JOIN US ON TWITTER / FACEBOOK |
Related posts:
The Best—and Worst—of the Apple iPad
Alice In Wonderland fot the iPad
Insect Shield Mosquito Repellent Travel Clothing
Airwear: Airport Codes Made Fashionable
The Kindle 2 vs the New Graphite Kindle DX
A Review of the Scottevest Travel Jackets




LEARN MORE & BUY | GET AN iPAD | JOIN US ON TWITTER / FACEBOOK
Read more travel clothing reviews