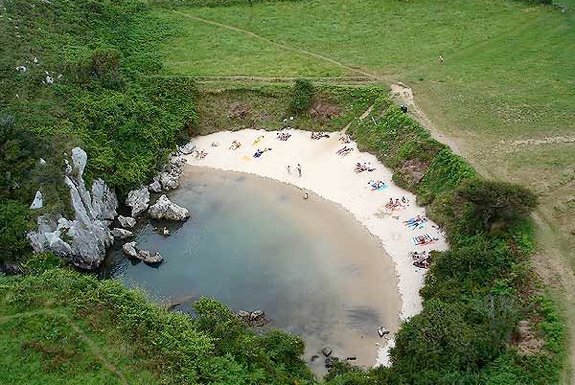 In Spain, it isn't surprising to find a crystal-clear waters lapping up against a golden sand beach. Yet it is completely surprising when you come across Spain's Playa del Gulpiyuri. That's because this unusual beach isn't on the Atlantic Ocean. And it isn't on the Mediterranean sea. It isn't even on a lake or next to a river. Instead, Gulpiyuri beach is in the middle of a meadow!




What's stranger: The water laps up in waves onto Gulpiyuri Beach, even when it isn't windy and when there's seemingly no other source to cause waves.

And the beach falls and rises with the tides.
And the water is ocean saltwater!
How is that possible? Because what you are really seeing at Gulpiyuri is the result of a tunnel. One end of the tunnel is beneath the Bay of Biscay that lays 100 meters to the north. The other end of the tunnel pops up in the meadow. Water from the bay (which, in turn, is attached to the Atlantic Ocean) flows through the tunnel, bringing the sand with it to form the beach.
The downside of this geologic arrangement, at least for cold water wimps like Spot Cool Stuff, is that this tunnel water is rather chilly. Still, we suspect many of our readers would think the water temperature refreshing after making the 20 minute trek from the nearest road to Gulpiyuri on a hot day.
You'll find Playa del Gulpiyuri in northern Spain near the traditional fishing town of Llanes. The town is scenically set atop some seaside cliffs but otherwise doesn't offer much of traditional tourist interest.
If you are passing through the area, Gulpiyuri makes for a wonderful stop as it's relatively close to the A8 motorway. Simply hop off at exit 313, bring some walking shoes (and perhaps a GPS device—see below) and you can find yourself in the middle of a meadow at one of the world's most unusual beaches.
updated: 8 May 2013

LEARN (A BIT) MORE | GUIDEBOOKS | FACEBOOK / PINTREST |
Related posts:
Maho Beach: Wild Plane Spotting in the Caribbean
Where (Besides Antarctica) to Swim With Penguins
7 Amazing Circular Geological Oddities
The Strangely Colored Beaches of Hawaii
Reviews of the Best Travel Cameras

Planning a trip to Gulpiyuri Beach
When: It's certainly better to visit Gulpiyuri beach on a weekday—it can get rather crowded on warm, sunny weekends.
If you go: Especially on weekdays, finding the beach can be a (fun?!) challenge and locals seem increasingly unwilling to give directions to out-of-towners. Consider bringing a global Garmin eTrex 30 GPS device, especially if you do a lot of hiking and/or international travel.
Family friendly? Definitely. Kids would get a huge kick out of it. Although the water is wavy, it is mostly calm and free of rip tides.
Where to stay: There are lots of hotel options within a hour's drive of the trail that leads to Gulpiyuri. The closest, best accommodations can be found at the Hotel La Cepada.
For your bookshelf: Northern Spain visual Eyewitness guide

LEARN (A BIT) MORE | GUIDEBOOKS | JOIN US ON TWITTER / FACEBOOK / PINTREST

Elsewhere on the web:
Read more reviews of unusual natural wonders