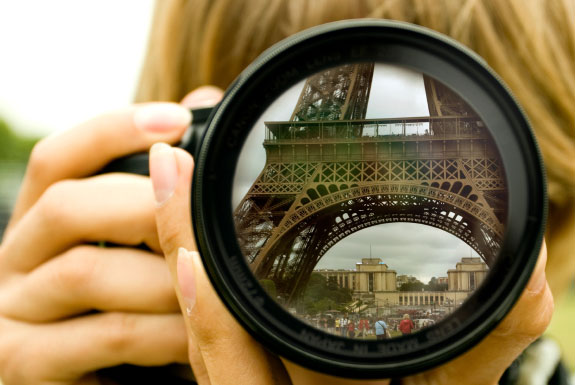 The qualities that make for a superlative travel camera are all those that make for a superlative camera in general. Plus, the joy of travel photography is improved by a camera that's small, light and has a longer battery life. Plus, a camera must be well built and, preferably, weatherized to withstand frequent travel. Plus, some cameras have features especially geared towards travelers such as self cleaning sensors and optional GPS devices that will record the exact location on the planet a particular photograph was taken. Whew!
Spot Cool Stuff considered all those factors when determining the best travel cameras and then divided our selections into these categories:
SLR Cameras:
Point-and-Shoot Cameras:
Click on the category that most interests you. Or, continue reading . . .

Best SLR For Advanced Amateur & Semi-Professional Photographers
Best Camera For Photo Safaris

Weight with battery: 28.6 oz (810 g)
Megapixels: 21.1
Screen: 3 inches

ISO: 100 to 6400 (auto), plus 50 and up to 25600
Video: 30 fps at sizes up to 1280 x 720 (HD quality)
Battery life: approx 900 still images


Wow is the Canon EOS-5D Mark II an unbelievably great camera. If you are serious about your travel photography, and especially if you have an eye on selling or publishing your photos, this camera is our for you.
The 5D Mark II is very capable in fully automatic mode but there's virtually nothing that can't be adjusted manually (especially after Canon's recent firmware upgrade). The powerful Digic IV processor and full frame sensor handles 21 MP images at lightening speed and with vibrant colors. In low light situations shots with the 5D Mark II are virtually noise-free (the ISO can be bumped up to a whopping 25600!). Even the HD video picture quality outstanding though for a comparable quality of audio an external mic is required.
Travelers will also appreciate the 5D Mark II's high weatherized body, its self cleaning sensor and the micro adjustments it automatically makes when you switch lenses. Additionally, the 5D Mark II also has an exceptionally long battery life (officially rated at 900 still image though while shooting in manual modes we've taken more than 1,400 images on a single charge!). Spot Cool Stuff's only significant complaint is that the 5D has no built in flash (though a flash can be easily added).
Of course all this quality doesn't come cheap. The body of the Canon 5D Mark II is currently on sale at Amazon for around $2,600. Onto that you'll either need to add a worthy Canon lens or buy the body along with lens kit. Still, we think the 5D Mark II gives you a lot of camera per dollar and is worthy of its price.
If money is no object—or if you happen to have a spare $25,000 and are looking to buy Spot Cool Stuff a camera—then we suggest the ultra high definition 50MP Hasselblad H3D II. For a smaller camera of the sort you can put into a more traditional camera bag we love the $6,000+ Canon EOS 1Ds Mark III and think the $5,000+ Nikon D3S is outrageously good too.
All of which proves our point: You can't get a camera that's better than the 5D Mark II unless you are willing to spend at least twice what this wonderful Canon model costs.

LEARN MORE & BUY | FOLLOW US ON TWITTER |

Best Value All-Around Travel SLR Camera Without Video

Weight with battery: 18.4 oz (521 g)
Megapixels: 12.3
Screen: 2.7-inch w/ swing & tilt

ISO: 100 to 3200
Video: none
Battery life: approx 500 still images (w/out using live view)


If you read our review of Olympus's Evolt E420 you know how high we are on that, the world's smallest production digital SLR camera. The Evolt E620 is a little larger than the E420—but not much. The E620 is still palm-sized and fits easily into a purse or jacket pocket.
The E620 might be small in size but Olympus has packed a large array of features including in-body image stabilization, supersonic dust cleaning (a very under appreciated feature of a travel camera, we think) and a 100% accurate LCD screen that can swivel out and has live view functionality. Olympus produces the most intuitive, easy-to-use SLR cameras on the market, making the E620 a great option for people who've never used an SLR before. Most importantly, the quality of the photos produced by the E620 is absolutely stellar!
The downsides? The E620's battery life is only slightly-above average for an SLR—if you anticipate needing to go a long time between charges we highly suggest picking up an Olympus battery grip. Also, in low light conditions the E620 produces good, though not superlative, results. (For a long battery life camera that is also outstanding in low light we suggest the Canon 40D or 50D).

LEARN MORE & BUY | FOLLOW US ON TWITTER |



Best Value All-Around Travel SLR Camera With Video

Weight with battery: 24.8 oz (703 g)
Megapixels: 12.3
Screen: 3-inch TFT LCD

ISO: 200 to 3200 (auto), plus 100 and 6400
Video: 24 fps at sizes up to 1280 x 720 (HD quality)
Battery life: approx 850 still images


No other camera category on this post was as difficult to decide upon as was the Best Value All-Around Travel SLR Camera With Video.
We are fans of the Canon EOS Rebel T1i but we don't quite trust its plasticky case and somewhat-less-than-solid build quality to stand up to the stress of travel in the long run. If you are more of a gentle traveler (eg. taking car trips) as opposed to an active one (eg. going on hikes) then the T1i is a good fit for you—you'll save over $100 compared to the Nikon D80.
The Nikon 5000 is a superb value; in ideally lit conditions it takes photos every bit as good as our category winner (the Nikon D90). However, the 5000 video quality is rather poor—Spot Cool Stuff would rather get an Evolt E620, which is smaller and more photographically versatile than the Nikon 5000, and then add a Flip Mino pocket camcorder or a video-taking high-value ultra-compact point-and-shoot (like the excellent and inexpensive Canon SD1200IS, for example).
We're also enamoured with the Pentax K-7 and the excellent photo and video quality it produces. The K-7 lost out to the D90 partly because we like the variety of Nikon-compatible lenses more (admittedly, this may be because we're more familiar with Nikon products) but mostly because the K7- costs around $250 more than the D90. However, the K-7 is a little smaller, a little lighter, has best-in-class dust mitigating technology and—perhaps most important—has the most rugged and best weatherized body of any SLR currently on the market for under $2,000. If you do a lot of outdoors and highly active travel the Pentax K-7 is your choice.
So it is the Nikon D90 the comes through that crowded field of excellent video-shooting value SLRs by virtue of having the fewest faults. Our only complaint about the D90 is the slow auto focus when the camera is in live view mode. Otherwise, this Nikon is an all-around great camera:
Superb video (for an SLR).
Amazing photo quality, especially in low light situations and especially considering the D90's relatively low cost.
The ability to add an optional GPS receiver.
Great battery life.
Superb selection of lenses of all types and price points.
Altogether, travelers can invest in a Nikon D90 with confidence.

LEARN MORE & BUY | FOLLOW US ON TWITTER |

Best Compact Camera for Travel

Weight with battery: 8.1 oz (229 g)
Megapixels: 10.1 / 12.7 (see review)
Zoom: 12x (!) optical, 4x digital, 25mm – 300 mm

ISO: 80 to 1600 (auto), plus 3200 and 6400
Video: 60 fps at sizes up to 1,280 x 720 (HD quality) in AVCHD Lite mode
Battery life: approx 300 still images


Perhaps no other point-and-shoot camera packs as a big a zoom in such a small body as the Panasonic Lumix DMC-ZS3. This camera is only 1.29 inches (3.27cm) thick, fits easily in your palm, and yet has a 12x optical zoom! That is, the lens glass is able to zoom all the way from the equivalent from a wide angle 25mm to a telephoto 300mm. That is a remarkably impressive engineering feat for any camera this compact to pull off, much less one that costs a mere $240-ish.
Of course, a quality zoom doesn't mean anything unless a camera is capable of taking quality photographs. And the Lumix DMC-ZS3 is. The DMC-ZS3 does something few other cameras do: it takes photos at an inflated pixel size (12.7 MP) and then automatically reduces them (to 10.1 MP) in such a way that the edges of the photographs are not subject to the softness and chromatic aberrations they are on other point-and-shoots. The extra megapixels also go towards improving the DMC-ZS3's video quality.
Speaking of which, the DMC-ZS3 takes outstanding video for a camera of this size. (Video is an area all Panasonic cameras tend to excel). The DMC-ZS3 shoots at 60 frames-per-second (as opposed to the 30 or 24 fps of most cameras) and let's you use the optical zoom during filming.
Following an industry trend, the DMC-ZS3 doesn't have a viewfinder. We also found that the photos it produces aren't quite as vibrant as those produced by, say, the Canon PowerShot S90IS (reviewed below); some photographers prefer this less vibrant more "natural" look, others will find themselves often adding saturation in post-production editing. For all photographers, the large zoom combined with great video and small size makes the Panasonic Lumix DMC-ZS3 a worthy travel companion.

LEARN MORE & BUY | FOLLOW US ON TWITTER |

Best Ultra-Compact Point-and-Shoot For Serious Photographers

Weight with battery: 6.9 oz (197g)
Megapixels: 10
Zoom: 3.8x optical, 4x digital, 28mm – 105 mm

ISO: 80 to 12800
Video: 30 fps, VGA quality
Battery life: approx 220 still images


The "S" attached to the 90 in the Canon PowerShot S90 IS moniker stands for "semi-pro." And this camera really is. If you are an SLR photographer who gets frustrated when using point-and-shoot cameras, or if you've been using a starter camera and are ready to move up, or, heck, if you just want the consumer ultra-compact camera that takes the best still photographs, the S90 is your runaway choice.
The most distinctive—and coolest—feature of the S90 is the control ring in the front of the camera. This ring can be used to control the focus. (In fact, the S90 is the only ultra-compact we know of with an option for full manual focus). The ring can also be used to set the ISO, zoom, white balance and exposure—all while composing your photograph.
Canon cameras traditionally excel at low light photography. The S90 surpasses even Canon's high standards in this area. The engineers of the S90 wisely resisted the marketing urge to have the camera shoot at larger than 10 megapixels. (As we've noted in a previous post about camera megapixels, any number of MPs over 6 doesn't add to the photo quality but simply allows you to print larger photos). Instead, Canon gave the S90 a powerful processor, a large 1/1.7″ image sensor (most point-and-shoots have a 1/2.5) and ISO capabilities up to 12800!
The S90 shoots in RAW as well as JPEG. The camera also has a high build quality able to withstand the rigors of travel.
So what's the catch? The S90 is currently selling for around $400, which is more than most ultra-compacts though a price that Spot Cool Stuff thinks is more than worth it. The S90 has no view finder. (We never use the viewfinder on a camera as small as this anyway but know others do). The video shoots only in VGA, not HD. Perhaps the largest drawback for traveling photographers is the relatively short battery life—when Spot Cool Stuff travels with the Canon PowerShot S90 IS we always bring an extra battery ($12).

LEARN MORE & BUY | FOLLOW US ON TWITTER |



Best Still Photograph-Video Camcorder Hybrid

Weight with battery: 32.8 oz (930 g)
Megapixels: 12.1
Zoom: 4x digital on camera, optical depends on the lens

ISO: 100 to 1600 (auto), plus 3200
Video: 60 fps at sizes up to 1280 x 720 (HD quality)
Battery life: approx 300 still images


The Panasonic Lumix DMC-GH1 is in a class by itself. There are several digital cameras capable of taking video. There are a few camcorders that can also take still photographs. But the DMC-GH1 is the only camera currently on the market that does both equally well. And the only one that works with interchangeable lenses.
The Panasonic Lumix DMC-GH1 is able to stand out so from other cameras because it uses a Micro Four Thirds system. In an SLR camera there's a mirror between the sensor and the image capture. Using a mirror makes sense for a film camera because that is the only way to reflect an image to a viewfinder as well as to the film. On a digital camera, however, a screen can serve as an electronic viewfinder. The trick is eliminating the mirror while also allowing for interchangeable lenses. And that's exactly what Panasonic has managed with its Lumix DMC-GH1.
Currently the major drawback of this relatively new technology is the price—the GH1 costs around $1,200+. For that you get a camera that takes photographs similar in quality to Panasonic's Lumix DMC-ZS3 (reviewed above) that's only around $240—although the GH1 does have the extra benefit of the interchangeable lenses. In the GH1 you also get an excellent camcorder that takes HD-quality video at 60 frames-per-second and allows optical zooming and continuous autofocus while doing so.
Given all that: if you are a travel photographer that takes more still photos than videos you'd be better off with any of the cameras reviewed above. If you are a serious videographer you'd be better off with a dedicated camcorder. But if your ratio of still to video photography is anywhere close to 50/50 the Panasonic Lumix DMC-GH1 is absolutely perfect.

LEARN MORE & BUY | FOLLOW US ON TWITTER |

Best Waterproof Ultra-Compact
Best Point-and-Shoot For a Beach Trip

Weight with battery: 7.4 oz (212 g)
Megapixels: 12.1
Zoom: 3x optical, 4x digital, 35 – 105 mm

ISO: 80 to 1600
Video: 30 fps, sizes up to 640 x 480
Battery life: approx 220 still images


In a previous post we compared our two favorite waterproof ultra-compact digital cameras: the Canon PowerShot D10 and the Olympus Stylus Tough-8000. In our review we argued that the Tough-8000 is the better of the two cameras if ease-of-use is a primary concern or if you are looking for a waterproof ultra-compact to bring along on your trip along with an SLR. The Canon D10 is better if the only camera you are traveling with is a waterproof one. Since we figure more people fall into the later group we decided to feature the D10 in this post. See our full review of these two waterproof cameras for more details on which camera is the better choice for your circumstances.
Note: Casio is about to launch a waterproof version of its excellent ultra-compact Exilim: the Casio Exilim EX-G1. We expect it to be a solid choice too but at the time of writing have not had a chance to test it yet.

LEARN MORE & BUY | FOLLOW US ON TWITTER |
published: Dec 2009





SEE AMAZON'S BEST SELLING CAMERAS | FOLLOW US ON TWITTER
Related posts:
The Best Camera Daypacks
Reviews of the Best (and Best Value) Nikon Lenses
Canon PowerShot D10 vs Olympus Stylus Tough-8000: Waterproof Camera Comparison
Nikon D80 vs D90 vs D300
Canon EOS Digital SLR Showdown: 40D vs 50D
Useful Websites While Traveling