Chances are that, at one time or another, you've walked past a parked Ferrari or seen a Lamborghini zoom by and thought to yourself "I wonder what it would be like to drive that thing?" The Exotic Driving Experience is your chance to find out—without the hassle of following speed limits and fighting off grand theft auto charges in court. That's because the Exotic Driving Experience is at the Walt Disney World Speedway in Orlando, Florida. And the exotic car you are driving is a rental.




The cars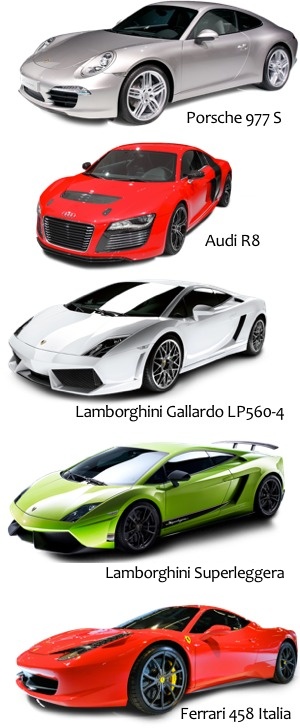 The Exotic Driving Experience begins with the selection of which cool sports car you'd like to drive. You have to decide when you sign up online, so it's worth spending a bit of time pondering the five options:
Choices start with the Porsche 997 S—at US$169 it is the least expensive of the Exotic Driving Experience car options. The 997 S is almost certainly quicker than your daily drive, zooming from 0 to 60 mph in a mere 4.3 sec. But it isn't an especially exotic car, either in terms of looks or the technology under the hood.
The next option up is the Audi A8—a supped-up version with a V-10 engine that's pounds out 525 horsepower. Capable of propelling you from 0 to 60 in 3.8 seconds, the A8 offers the most zip per dollar. But, in the end, it isn't really an exotic sort of car either. Which brings us to . . .
The Lamborghini Gallardo LP560-4 and the Lamborghini Superleggera. Now this is what we are talking about! These exotic Italian luxury vehicles are probably unlike any car you've likely driven before. The performance difference between the two Lamborghinis is slight but the price to drive one with the Exotic Driving Experience certainly isn't—$389 for the Superleggera versus $299 for the Gallardo. If you want to feel like you've done something special without feeling like your budget has completely raced away from you, the Gallardo LP560-4 is our suggestion.
If you're after that one-in-a-lifetime experience, damn the credit card, then what you want the Ferrari 458 Italia. The 2011 Car of the Year will rocket you from 0 to 60mph in 3.2 seconds. Yes, an experience in this high-end Ferrari will set you back $419. But then the entire car costs nearly $300,000.
The experience
So what's the Exotic Driving Experience like? At first, it feels a lot like the first day of grade school. It all starts with nervous anticipation when you are introduced to your fellow drivers and an instructor. Then it's time for your 45-minute class. The first half hour of the class is genuinely useful. After that, the feeling shifts more to what it's like the week before graduation—you aren't gaining new knowledge but instead are focused on what will come next.
And what does come next? Hitting that track. You are outfitted with a racing helmet and strapped into the car with an apparatus similar to what NASCAR drivers use. Your instructor is in the passenger seat next to you. It is all very safe, but still, your heart starts beating faster and your adrenaline is pumping.
When, finally, you start driving it is a complete thrill! The difference between driving a Lamborghini and, say, a Toyota Corolla is something like the difference between flying on a jumbo jet and taking the bus. The speed, power and grace of these cars—it is completely overwhelming.
Every Exotic Driving Experience drive consists of 6 laps around the 1-mile track and a run through a slalom course with 12 hairpin turns. You are told several times that the experience is mostly able trying out the handling and precession of your sports car, but it is hard not to make it about speed and experiment with how fast you can go on the track. The speedometers inside the cars are covered up (drivers found them too distracting) but the Exotic Driving Experience will take a video of your drive and track of your top speed.
All of the cars are automatics (so no need to know how to drive stick) but each have paddle shifters on the steering wheel. If you are confident enough to give them a try we suggest doing sp—they really give a feel for what the cars can do.
If there's one complaint we have about the Exotic Driving Experience is that, us to, the time driving the car seemed too short.
Too short, but totally worth it.

Driving vs riding
To take one of the Exotic Driving Experience cars out for a spin you needn't have any race car driving experience. You do need a valid drivers licenses and be over the age of 18. If you don't meet those criteria (but are over 14 years old) you can still go on a "Trill Ride." For $99 a professional driver will drive you along the same course that the self-drivers use.
If you go on a Thrill Ride you'll go much faster (especially around the turns) than you would driving yourself. In that way, the Thrill Rides are more fun. But you can't select which car to ride in—it's the luck of the draw between the Porsche, Audi and Lamborghini Gallardo. Also, it;s harder to get a feel for a car as a passenger (obviously). And, of course, you don't get the bragging rights you do being in the driver's seat.
One more disadvantage to the Thrill Ride: They are offered only on a first come, first serve basis. For the driving experience, advance reservations are not only available but required. Makes yours as early as possible—the best slots can fill up fast.
published: 2 April 2012

LEARN MORE | ORLANDO GUIDEBOOKS | JOIN US ON TWITTER / FACEBOOK


LEARN MORE | ORLANDO GUIDEBOOKS | JOIN US ON TWITTER / FACEBOOK / PINTREST
Related posts:
A Review of Discovery Cove: Orlando's Un-Theme Park
The Best Orlando Hotels with Free Wifi
The World's Largest Car Dealership ← there's a race track on the roof