Spot Cool Stuff never checks our luggage if we can avoid doing so. Like most frequent fliers, we travel with a wheeled bag that will fit through the airport security x-ray and into an airplane's overhead compartment. Unlike most frequent fliers, we also run a travel review blog and are fanatical about travel gear. So we've spent a lot of time researching the best wheeled carry-on bags. A lot of time. From conception, through research and writing, this post has been 11 months in the making.
Why so long? Partly because the market is flooded with rollaboard luggage options. But mostly because no single wheeled carry-on stood out to us as being absolutely better than all the others. As with so many products, the "best" option depends on what an individual consumer is looking for.
Given that, we focused on the best wheeled carry-on bag in five different categories. Factors we considered in making our selection included build quality, value for the price, looks, weight, cargo capacity (while staying under the 22-inch maximum height requirements that many airlines set for carry-on luggage) and bag features.
Read on. Or click on the category that appeals to you most:
Best Organizational System Wheeled Carry-On
Best Compression (and Expandable) Wheeled Carry-On
Best Hard Side Wheeled Carry-On
Best Lightweight Wheeled Carry-On
Best Wheeled Carry-On For Laptops




Best Organizational System Wheeled Carry-On
Pros:
Outstanding design, interior organizing pouches, lots of zippable compartments, doubles as a chair, cool design
Cons:
Not as much room as the other bags on this list
Price:
$350 (
$285
Amazon discounted)
Spot Cool Stuff is a throw-everything-into-a-bag-and-squish-it-down kind of packer. But for travelers who fold all their clothes before packing and who want everything in their bag to be organized just-so, there is no better wheeled carry-on — and, we'd argue, absolutely no other piece of luggage of any sort — better than a ZUCA Pro Travel†.
Though the sides of the bag are fabric-covered, on the inside there's an aluminum alloy frame inspired by aerospace technology. The frame is so strong that you could sit on it. Literally. The ZUCA Pro Travel is designed to also work as a chair strong enough to hold a 300 pound (136kg) person — useful for weary travelers who find themselves waiting in long lines. The ZUCA Pro Travel's strong, rigid, flat top is also ideal for resting a briefcase or second bag atop as you wheel them both.
Inside that rigid frame fit five pouches that come included with the bag. Each pouch zips closed, each is color-coded and four of the five are differently sized. So it's easy — even for messy packers like us — to put socks in one pouch, shirts in another, shoes in a third, etc. When you need one item, you pull out the corresponding colored pouch and, voilà, you have access to it while the rest of your bag remains organized. The pouches can be placed in the bag in any order and you can use as many of them as you want (or none).
The ZUCA Pro Travel also comes with a clear TSA compliant toiletry bag. It fits on a top "shelf" inside the bag, making it easy to pull out for airport security checkpoints.
The toiletry bag, internal pouches and sit-on-able properties of the ZUCA Pro Travel are the bag's most noticeable qualities. But after having taken a few trips with one we've come to appreciate all the thoughtful little things the ZUCA designers thought of. Like the retractable handle that always lifts open and pushes closed easily. Like all the pockets and exterior compartments for magazines, passports, boarding passes, MP3 players and all manner of nicknacks. Like the form fitting cover that comes with the bag.
Our only complaint with the design is that, when the ZUCA Pro Travel is stuffed full, it is hard to get your hands around the handle at the top of the bag. The ZUCA Travel Pro is also the smallest bag in this review: 19.5-inches (50cm) high, 10-inches (25.5cm) wide and 13.5-inches (34cm) deep. But, being the narrowest, it is also the easiest to wheel down a narrow airplane aisle.
ZUCA, not incidentally, makes several other bags similar to the Pro Travel. Among those: an outstanding wheeled carry-on for pets and the sport series that comes in a variety of frame colors and fabric patterns (which you can personalize on the ZUCA website).
† Except for maybe the similarly-designed ZUCA Flyer Travel

Best Compression (and Expandable) Carry-On
Pros:
Superlative compression and expansion system, extremely high build quality
Cons:
Ordinary looks, bit expensive
Price:
$400
If you are searching for a piece of wheeled luggage that will hold the most stuff possible in a carry-on size, you can stop looking now. The rollaboard you're seeking is the Briggs & Riley Commuter Expandable Upright.
There are three reasons why a traveler can pack more in a Commuter Expandable Upright:
First, the bag is exactly the dimensions of most airline's maximum allowable size carry-on. (We tried putting it in one of those carry-on size checks at the airport — it squeezed in with absolutely no room to spare.)
Second, the bag has few compartments or space-occupying features. There's one cinch-down mesh garment panel in the front of the bag (excellent at helping prevent garment wrinkle) but it folds flat into the bag. Other than that, the bag has only two small pockets in front, which are large enough to hold a few papers, coins or keys but not much else. In back, those clever Briggs & Riley designers put a little zip-able pouch between where the two carry handle poles retract — an area that goes unused in most bags.

But the third reason why the Commuter Expandable Upright holds more than any other bag of the exact same size is the most important — Briggs & Riley's proprietary CX compression system.
It works like this: On both ends of the Commuter Expandable Upright there are built-in extenders. Pull a release lever and you can yank up the edges of the bag. (See pic to the right.) With maximum expansion there's about a third more packing room in the bag's main compartment.
Then, after you've packed, you can either leave the bag expanded (meaning it will likely exceed your airline's carry-on size requirements). Or you can push down on the bag, compressing the contents inside.
How much compression you get depends on the squishability† of the contents. For a typical load — mostly clothes but also some toiletries, a book and maybe a small camera — you can expand the bag fully, pack it to the rim and then push it all the way down to its pre-expanded size.
In other words, you can potentially pack 33% more into a Briggs & Riley Commuter Expandable with the CX system than you could in an identical bag without the CX system!
Whether your stuffed-full bag will meet your airline's carry-on requirements for weight . . . well, that's a different matter.
The CX compression system makes the Briggs & Riley Commuter Expandable Upright one of the coolest bags on the market today. Unfortunately, it doesn't look like one of the coolest bags (a cause not helped by only being available in black or a drab olive green). And its $400 price tag is a little steep. But those downsides pale in comparison to the cost and inconvenience of checking on your luggage, both of which the Commuter Expandable Upright helps you avoid.
† Yes, squishability is now a word.

Best Hard Side Wheeled Carry-On
Pros:
Light weight, very durable, smooth 8-wheel rolling system, free bag tracking
Cons:
Expensive, no exterior compartments
Price:
$500 list price (
$329 on Amazon
)
Some hard case luggage is built like a tank — solid but prohibitively heavy. Other hard case bags are light in weight but with an exterior so flimsy it doesn't provide any more protection to its contents than a fabric bag would. Few hard side bags fall in the ideal middle ground. In fact, despite much searching we've only found three. And the best of those, by a considerable margin, is the Victorinox Spectra.
The Spectra's shell is very durable — it's made from the same type of polycarbonate plastic used to manufacture airplane components and car bumpers. The material is also very light weight. The Spectra weighs a scant 5.7 pounds (2.6 kg), which is not only considerably lighter than virtually all other hard side bags but also lighter than the majority of similarly-sized fabric rollaboards! It's an impressive combination of strength and light weight, albeit one that doesn't come cheaply.
Fortunately, purchasing a Victorinox Spectra brings with it benefits beyond portable durability. Those include:
• Eight high-quality wheels that provide 360° maneuverability. When boarding a small airplane, we turned our bag sideways, placed our briefcase on top of it and easily pushed the Spectra down the aisle with all eight wheels on the ground.
• A built-in lock with a TSA access key. That's a standard feature on some other hard side bags too. What's unusual with the Spectra is Victorinox's Access Lock Combination Recovery Program. You can register your bag's combination on the Victorinox website and recover it there if you forget.
• The Swiss Tracker Bag Tracking Program. Every Victorinox Spectra has a unique ID tracking number (located behind the handle). If some one finds your bag, no matter where in the world they are, they can place a collect call to Victorinox who will, at no cost to you, help reunite you with your bag.

Best Lightweight Wheeled Carry-On
Pros:
Exceptionally light weight, Osprey's Almighty Guarantee, solid construction
Cons:
No laptop compartment or other frills
Price:
$229
The Osprey Ozone is lightweight. Really lightweight. So lightweight that you'll go WOW when you first lift it.
How lightweight? The Ozone weighs in at about 4 pounds (1.8kg). That makes the Ozone the lightest weight wheeled 22-inch bags on the market today.
For comparison, the average wheeled 22-inch rollaboard weighs about 9 pounds. That's about the same as the Ozone weighs after you've packed it with a camera, footwear, two changes of clothes and a few accessories! See our full review of the Osprey Ozone for more.
The Ozone's weight, of lack thereof, is the bag's most superlative factor. But it certainly isn't the only aspect of the bag we like. The Ozone is also exceptionally well built. It has wheels that are a bit larger and more rugged than other bags — good for wheeling across gravel or cobblestones. And, like every Osprey, the Ozone comes with The All Mighty Guarantee: If an Osprey bag is damaged at any time, for any reason, Osprey will repair or replace it free of charge!
The Ozone has a small but handy compartment on the top of the bag. There's also a long, shallow compartment that runs down the back of the bag (good for storing magazines or flip-flops but not much else). The two pockets on the front of the bag are disappointingly small and near useless.
Those wanting lots of pockets and compartments should look at the other wheeled carry-on bags in this review — the Ozone is a minimalist bag. But for those hoping to pack light, there is no better choice than an Osprey Ozone.

Best Wheeled Carry-On For Laptops
Pros:
Well-padded laptop compartment, large number of organizational pockets, strong value for money
Pro and con:
Slim form factor — a bit less storage space but easier to fit into the overhead compartments of smaller aircraft
Cons:
Only available in black
Price:
$180 (
$114 on Amazon
)
When Spot Cool Stuff first started searching for our best carry-on rollaboard with a laptop compartment we knew we wanted a bag that looked good and was well built. We wanted a bag with an easily accessible laptop compartment with 360° padding and room enough to fit at least a 15-inch Apple MacBook Pro. Finally, we wanted a bag that was available in a 22-inch size — the largest most airlines allow for a carry-on.
Even with all those criteria, we figured there would be a plethora of luggage options to choose from. Turns out that there weren't. In fact, we found only a handful. Of those, the one we like best is the STM Jet Roller.
The laptop compartment on the Jet Roller is large enough to fit a 17-inch laptop and offers extra padding exactly where it is most needed: on the bottom and around the sides.
But the laptop area isn't the Jet Roller's only gadget friendly feature. In front of that there's another compartment with two padded sleeves for electronics: one is designed for a full-sized 10-inch tablet and the other is intended to be used for sunglasses but also happens to perfectly fit a Samsung Galaxy Note. This compartment also has a mesh pocket ideal for charging cords, a key ring and several organizing pockets (including one exactly iPhone sized).
In front of that there's yet another compartment. It has an interior pocket (albeit an unpadded one) that perfectly fits an eBook reader like the 7-inch Kindle Fire HD. There are also pen holders, yet another key ring and yet more organizational pockets. (This quick access area is where Spot Cool Stuff keeps our travel documents when we travel with the Jet Roller.)
Then, in the back of the bag, there's a slip pocket for magazines, files or a newspaper.
Other aspects of the Jet Roller that make it stand out include the two padded carrying handles (one on the side, another on top) and the way the entire bag opens up to the main storage area.
Best of all: At $114, the current discount price on Amazon, the STM Jet Roller is the best value wheeled carry-on bag on the market today.
As for downsides, the Jet Roller is a bit more shallow than some other carry on bags — it's 12.6-inches deep compared to, say, the Briggs & Riley Commuter, which is 14 inches. That means the Jet Roller has a bit less storage than some other wheeled carry ons. But the relatively slim form factor also makes it more maneuverable and easy to fit into smaller overhead compartments. In fact, there are commuter jets that will force you to gate check a full-sized carry-on but will allow you to board with a Jet Roller.
For gadget lovers and laptop-toting business travelers, the STM Jet Roller is ideal†. If there's a piece of paper, personal travel accessory or mobile gadget that you can't find a home for in this bag then, really, you should seriously think about leaving it at home.
† STM also makes great gadget cases and covers — check out their website for more.


3 More Cool Wheeled Carry-On Bags
There are some trips for which it is hard to know whether a wheeled bag or a backpack would be best. With the Osprey Meridian you can bring both. The Meridian is the best wheeled-backpack hybrid bag currently on the market. That thanks to its backpacking-quality internal frame. We also love the Meridian's laptop-friendly daypack that secures on the front of the bag. Read our full review of the Osprey Meridian for more.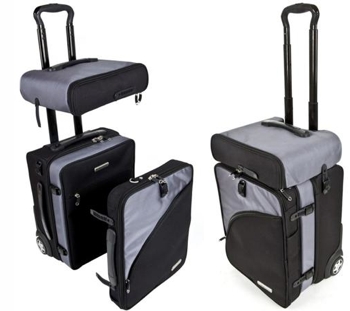 Full disclosure: Spot Cool Stuff has never seen a TRUCO Travel Utility Carry-On in person, much less traveled with one. (Our attempts to contact its manufacturer went unanswered.) However, we wanted to mention the bag here because the look of it intrigues us. The TRUCO uses a modular system in which three smaller bags — a rollaboard, a garment bag and a "briefcase" — can be combined to create a single bag. Presumably, the advantages of this system are 1) better organization, 2) the option of leaving unneeded portions of the bag at home and 3) the ability to take the bag apart to make it fit into a shallow overhead compartment. The TRUCO website doesn't say how much the complete system weighs, which makes us think it's heavy. Still, the price seems reasonable: $245.

The wheeled carry-on that's best for speeding through an airport is also the one with the most WOW factor: The Samsonite Micro Suitcase Scooter.
This scooter-luggage hybrid isn't some make-believe item. The photo to the right isn't a product of PhotoShop. The Suitcase Scooter is a real thing — you can buy one today for a discounted $200 price on Amazon. When it's in an overhead compartment, the Suitcase Scooter looks like a regular hard side carry-on. But fold its wheels down, hop on as you might a skateboard and you can now use your bag as a scooter! See our review of the Samsonite Micro Suitcase Scooter for more details.

More Spot Cool Stuff "Best Of . . ." Reviews
The Best, and Coolest, Airlines
The Best Thailand Islands
The Best Bookstores
The Best Online Dating Sites
The Best Website For Finding Caribbean Travel Deals
The Best Cameras for Travel