Amazon has well over 2,000 guidebooks about Las Vegas. We haven't read them all. But we've read portions of many. And of those the one we'd suggest to you would depend on how well you already know Vegas, whether you have a Kindle ebook reading device, and whether or not you are heading to Sin City with a group of your male friends hoping that whatever you do in Vegas does, in fact, stay there.
Our Vegas guidebook selections:




Zagats Restaurants & Nightlife

You already know where you'll be staying in Vegas. You know mostly what you'll be doing in Vegas: lounging by the pool probably, gambling certainly, shopping depending on how the gambling goes. But you aren't exactly sure about which of the newly opened restaurants are good or what the hottest bar is these days. For you, there's the Zagat guide.
Zagat has the best, most reliable, restaurant & nightlife information because their books are updated yearly, and because their reviews are culled from the first-hand reports of thousands of Zagat's readers.
Even better than buying one of Zagat's guides, though, is subscribing to their online site. With a subscription to Zagat you'll get access to continuously updated reviews (especially important for a destination like Las Vegas where the revolving door of bars and restaurants spins notoriously fast). You'll also get their review for every other city Zagat covers!
BUY THE BOOK | SUBSCRIBE TO ZAGAT ONLINE (40% off through Spot Cool Stuff)

The Little Black Book of Las Vegas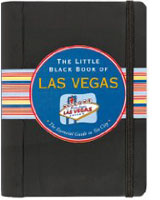 For a little bit more around-the-town info than restaurant and nightlife reviews, we love The Little Black Book. This guide has a heavy editorial slat, making bold statements on what's "best." Spot Cool Stuff is a fan of that, trusting the excellent judgment of this guide's author, Lark Ellen Gould. (We love saying the name "Lark Ellen Gould"). Even if you are one of the Vegas travelers who would rather have a more objective take on things you'll love this book's clear colorful maps, as well as its durable, spiral binding.

Time Out: Las Vegas

What if you already have your resort picked out but you want more to your guidebook than nightlife and restaurant reviews (see Zagat, above) and also more than Vegas shopping and attractions advice (Little Black Book)? Then Time Out: Las Vegas is your choice. Time Out covers many of the hot bars and restaurants, but also reviews shows, casinos and various Vegas attractions. The information is all provided by local Las Vegas writers.
And if you are feeling like you need to escape the neon lights and casino mayhem, this Time Out book will guide you to the sites of the Hover Dam, Death Valley, the Grand Canyon and Los Angels. All that in one compact, easy-to-carry-around package.

The Unofficial Guide to Las Vegas

OK, so you've never been to Vegas and you don't know where to stay. In fact, you don't really know the first thing about Vegas except that there's gambling there and that for some reason Elvis liked singing about the place. For you, the Unofficial Guide to Las Vegas is your place to get acquainted with the city and prepare for your trip. The Unofficial Guide is full of maps, teaches you the most popular casino games, and has a detailed rundown on all the resorts.

Frommer's Las Vegas 2009

If you have a Kindle electronic reading device— and we think everyone should—then the best guidebook is available for download is the excellent Frommer's guide. The Frommer's guide includes much of the all-encompassing information that the Unofficial Guide (above) does it in electronic format.
DOWNLOAD | BUY THE KINDLE | READ OUR KINDLE REVIEW

A Guy's Guide to the Perfect Vegas Getaway
There are far too many niche guides to Vegas than we can review here, but there's one we have to mention: A Guy's Guide to the Perfect Vegas Getaway. If you are heading to Sin City with a group of your buddies, perhaps for a bachelor party, perhaps looking for a less-than-wholesome experience, then this is the guide that will lead you there.

SEE MORE VEGAS GUIDEBOOKS | FOLLOW US ON TWITTER |

Related posts:
The Best Las Vegas Swimming Pools
Rock Bottom Cheap Vegas Resorts
The Minus-5 Ice Bar on the Vegas Strip
A Visit to the Barry Manilow Store
Las Vegas Gothic Weddings
The Pinball Hall of Fame
The Vegas Atomic Testing Museum
This post is part of our Las Vegas Long Weekend, '09



Do you have a favorite Las Vegas guidebook we didn't mention? Let us know in the comments section: