There are about two dozen medieval-themed restaurants in the world1. Of those, L'Auberge du Dragon Rouge is definitely not the most authentically medieval. But the Montreal restaurant is almost certainly the most fun.
You'll find L'Auberge du Dragon Rouge well north of downtown on Rue Lajeunesse. It's a surprisingly nondescript street for such an unusual restaurant. Walking past the ordinary-looking concrete and brick buildings, your first clue that you've come across somewhere special will be the giant gargoyle statue out front.
Your second clue will come after you walk inside. The cozy wood and stone interior looks a bit like the house of a hobbit — a hobbit who has had many adventures. There's a dragon head above the door. The mantle holds a display of dragon eggs. The walls are adorned with shields and armor and battle axes. Stained glass windows depict wolves and deer and other creatures of the wood.
Then your server will come over, wearing period clothing and addressing you as My Lord or Me Lady. You'll be advised to simply yell out his or her whenever you need something, along with the warning: "Shy people get bad service here."
Which brings us to one of the most distinctive features of L'Auberge du Dragon Rouge: It is a rowdy, raucous place. Not rowdy or raucous in an out-of-control drunken party sort of way. (The restaurant, in fact, is remarkably family friendly — on our visit nearly half the tables had a kiddo there.) But between the patrons yelling for their servers, the servers yelling good-naturedly back at the patrons and the servers yelling at each other the place is loud. And that's not accounting for the minstrel who often wanders the restaurant singing and strumming guitar; instead of clapping after each tune the medieval way to expresses approval is apparently by banging on the table. And when the minstrel isn't doing his thing the staff might interrupt the meal to tell jokes or offer a toast or dare the patrons to drink a shot of dragon's blood — a bit more on that later.
The point is: L'Auberge du Dragon Rouge is not the sort of place one goes for a quiet romantic meal. Or for a business meeting. Or, really, to have a sustained conversation of any kind. But it is a sensory feast, a place where the activity level and goings-on appeals to all ages. L'Auberge du Dragon Rouge is that rare restaurant that can appeal equally to babies, tweens, grandparents and college students looking for a place to go drinking2.
Given what an unusual experience it provides, it's refreshing and somewhat amazing that L'Auberge du Dragon Rouge is not the least bit touristy. All the patrons during our visit not only seemed like locals, they all seemed like regulars. So unprepared is L'Auberge du Dragon Rouge for tourists that their menus are only in French (though the staff is bilingual and will happily translate).
[ ALSO ON SCS: The Restaurant with a Waterfall Through It ]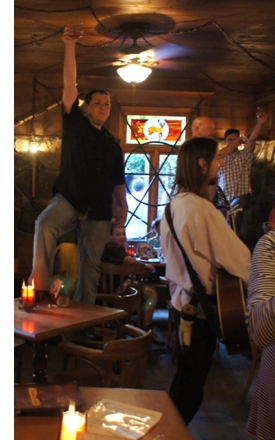 On that menu, the offerings include several items that, we suppose, might have existed in the Middle Ages. The main courses almost all emphasize gamey meat — goat, duck, wild boar and the like3. But the restaurant's medieval theme is unevenly applied. Ask for a round of beers and it'll be served to you in a communal bucket with ladles. Ask for a fork and, well, you won't get one because they didn't have forks in medieval times. Yet that logic doesn't prevent the L'Auberge du Dragon Rouge from having electricity, plastic-lamented menus and Cajun-spiced fries.
Those fries, and the other L'Auberge du Dragon Rouge dishes, come in generous portions. It's all tasty, even as the ingredients don't seem farmers-market fresh. Good but short of gourmet.
We were more inspired by the L'Auberge du Dragon Rouge's selection of drinks, including mead and unusual cocktails. Among the options is a shot of "Dragon's Blood." You can order it off the menu but it's more fun to wait until the staff shout out an offer of a round. Accept and you'll be asked to stand on your chair, place a foot upon your table, strike a captain's pose and take the Dragon's Blood Oath, which includes a promise that you'll drink your shot in one gulp. Our advice to Dragon's blood drinkers: Have a big glass of water nearby.
updated: 21 Jan 2014


LEARN MORE (French only) | FIND MONTREAL GUIDEBOOKS |
1 Among the world's other medieval-themed restaurants, we're fans of Bors Hede (Carnation, WA), Anno Domini (Dresden), L'Auberge du Chat Pitre (Rennes, France), Gallo Nero (Siena, Italy) and Olde Hansa (Tallin). The Medieval Times (various locations in USA and Canada) performs a slightly campy medieval show — think jousting and falconry and the like — while serving you a medieval dinner. Stiftskeller St.Peter in Salzburg not only prepares a high-end three-course medieval meal, but does so in a medieval monastery while musicians in period dress play Mozart's Mass in C-Minor — very cool!
2 That is, the college students are looking to go drinking, not the babies and tweens. The grandparents might or might not be.
3 There are two mostly uninspired vegetarian options not listed on the menu.




Planning your L'Auberge du Dragon Rouge trip:
Where: 8870 Rue Lajeunesse, at the corner of Emile-Journau, about two blocks from the Cremazie metro station.
When: Reservations are not accepted. If you are eating with kids show up early (eg. before 5:30pm). Going for drinks it's best to arrive after prime dinner hours.
If you go: There are several options not on the menu; tell your server what you are looking for.
For your bookshelf: The Medieval Cookbook
LEARN MORE | JOIN US ON TWITTER / FACEBOOK / PINTREST / GOOGLE+

More Montreal travel from Spot Cool Stuff:
An Overview of Montreal Family Travel Ideas (That Are Fun For Adults Too!)
A Visit to the Montreal Biodome
The Living Sculptures at the Montreal Botanical Gardens
A Review of the Marriott Chateau Champlain: The Best Hotel Room View in Montreal