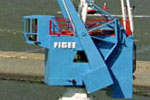 spot cool stuff TRAVEL
When in Harlingen, on the Dutch coast an hour's drive from Amsterdam, you'll need to crane your neck upwards to spot two of the three coolest hotels in town. One of those hotels is atop an actual working crane. The other is in a lighthouse. And the town's third cool hotel? That's on street level—or, more accurately, water level—inside a lifeboat.
Our reviews of each . . .
---