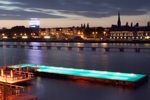 spot cool stuff TRAVEL
Swimming in Berlin's Spree River is not something most people will want to do†. But swimming in a pool that is in the Spree River—now that's cool!
And that's exactly the experience the Badeschiff offers.
The German word translates to "bathing ship," which is as good a short description as any. The Badeschiff was fashioned from an old river barge cargo container filled with 400,000 liters (about 100,00 gallons) of chlorinated fresh water. The whole thing literally floats in the river, tied to a dock in the same way one might moor a houseboat.
---