Most eco-resorts aim to preserve nature. At the Daintree Eco Lodge & Spa they work to preserve a culture too.
The Daintree's location in the north of Queensland is one of the few places in Australia regularly visited by tourists where aborigines also retain their way of life. And that fact is incorporated into the experience of staying at the Daintree. Aborigines lead walking tours into the rain forest and teach painting workshops. Aboriginal art adorns the Daintree's accommodations and ancient aboriginal herbs and healing practices are used in the Daintree's spa treatments. And the 15 private villas here blend into their beautiful, natural surroundings; each villa is built upon stilts, treehouse-like, and are designed to disturb the local ecosystem as little as possible.
Guests of the Daintree get the advantages of all this cultural protection and ecological awareness without sacrificing luxury. The villas here are plush, with air-conditioning, large modern beds, wifi access and a high-end TV with access to free movies. Though we don't know why guests would watch a movie when they could hang out on their villa's private screened balcony and enjoy their stunning jungle surroundings.
LEARN MORE & BOOK | READ | FLY THERE | FOLLOW US ON TWITTER |
Related posts & pages:
Stay Like a Rock Star in Sydney
Ice Bars in Warm Places
Reviews of Amazing Eco-Resorts
Useful Websites While Traveling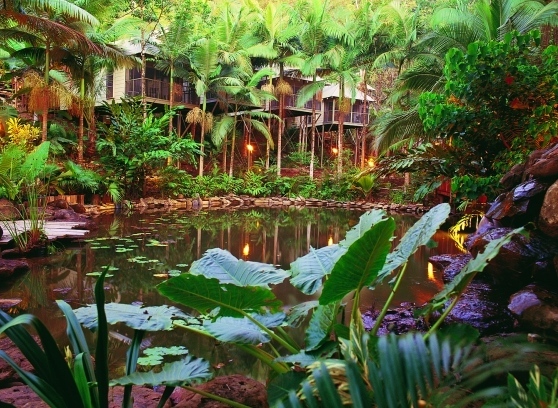 BOOK | READ | FLY THERE | FIND AUSTRALIA SPECIALISTS (free!) | FOLLOW US ON TWITTER