Spot Cool Stuff knows lots of people who take their travel seriously. For them we try to pick out a travel-related gift. Because we take our travel gear seriously.
Here are some gift suggestions for the traveler in your life. Let's start with our favorite travel gadget of 2008 . . .
Spot Cool Stuff's Choice For Best Travel Gift Of 2008
The Kindle ebook reading device
If your personal items don't fit under the seat in front of you maybe it is because of all of those those novels, travel guidebooks, magazines and newspapers you've brought with you on the plane. The Kindle reading device can store all of them in one unit that's about the same weight and size as one medium-sized paperback. The Kindle works so well because the "e-ink" technology is as easier for your eyes to read than an old-fashion paper book (and much easier for your eyes than the screen you are reading right now). Books, newspapers, magazines and even a few blogs can be downloaded directly onto the Kindle via a ubiquitous cellphone connection—no internet connection required.
The Kindle is one of those items that will make that special traveler on your gift list go WOW.

Our Other Favorite Gifts This Holiday Season
Sanctuary at the airport and in the airplane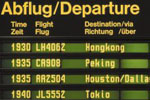 2008 saw record flight delays and increasingly full flights with increasingly bad service. 2009 is looking like an even more stressful year for air travelers. If there are frequent fliers on your shopping list here are two gifts that will thrill: a a Priority Pass membership and pair of the world's best noise canceling. Holders of a Priority Pass card get access to the relaxation and relative luxury of the airline's business class lounges even if they are flying economy. Listeners of the best noise canceling headphones, the Sennheiser PXC 450, arrive at their destination feeling more awake and stress-less. What could be a better gift than that?

Plug in anywhere in the world
Search online stores for "universal plug adapter" and virtually all of the adapters you'll find will not work in every country. The APC Plug Adapter will. Any plug type can be inserted into any residential outlet in the world using the small, ingeniously designed APC. Very cool.

The world's best sunglasses
Did you know that wearing a pair of sunglasses can damage your eyes more than not wearing sunglasses at all? That can happen if the sunglasses are the wrong kind. Maui Jim sunglasses are the right kind. They provide full eye projection. And, oh yeah, Mau Jim sunglasses look very cool. They are even perfectly polarized, making these sunglasses ideal for skiing, water sports, driving or any activity in which sun glare is an issue.

An umbrella that plays with the wind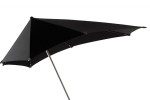 It is unlikely that anyone on your shopping list will find themselves in a rainstorm with 70 mph (100 km/h) winds. But if they did they could still open their Senz umbrella and keep their heads dry. The Senz has won numerous accolades for its strong design and for the way this umbrella almost dances with the wind. The Senz also folds up to a compact, travel-friendly size.

For the laptop junkie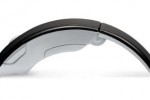 Some people never seem to go anywhere without their laptop. After this gift from you they will never go anywhere without their Arc Mouse. This cool-looking wireless mouse works on nearly any reasonably flat surface (including a pillow and a pant leg) and automatically folds up for easy portability.

A stocking stuffer for a backpacker
For camping trips, or adventures to underdeveloped countries, a gift of magic soap is sure to be appreciated. Technically called "Dr. Bronner's Castile Soap," this amazing, biodegradable product can be used as body soap, toothpaste, shampoo, laundry detergent, mouth wash and even mosquito repellent!

Find the best restaurant, bar or hotel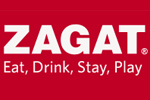 The best restaurant, bar and hotel reviews are, of course, here on on spotcoolstuff.com. There are a lot more reviews on Zagat's subscription website, and the quality of those are pretty good too. Zagat is most famous for their books but the information they offer online is more extensive and up-to-date. For access to the Zagat website there's a reasonably-priced fee (which is 40% more reasonable using the Spot Cool Stuff discount code). Sign up the urban travelers on your shopping list and they'll certainly make frequent use of their gift.

More Cool Travel Gear
The best wheeled backpack

.
Clothing that repels mosquitoes

.
Always find the way

.
Packing organizer

.
Charge iPods and cell phones with the sun