Two phrases sum up Harbin China's Snow & Ice Festival: Wow and I can't feel my toes.
Each year the far northeast of China the city of Harbin holds this famous winter festival. Artisans from all over the globe come to carve gargantuan works of art out of blocks of ice and mountains of snow. The theme of the festival changes yearly but, no matter the theme, the sculptures will have you ohhing and awwing.

Imagine a park full of life-size ice replicas, of everything from giant Buddhas to European cathedrals. There are sports cars made of ice, trees made of ice and an ice rock climbing wall for those with enough feeling left in their hands and feet to give it a shot.
So how cold does it get? -30 degrees Celsius (-22 F) or so cold you almost instantly lose feeling in your fingers and toes. Your breath turns your scarf and hair to ice. As painful as it is to remember, yours truly had icicles coming out of her nose and lost feeling in a few toes which didn't return until a week later. So, be prepared before heading to Harbin—you won't enjoy the sites if you aren't warm enough to function.
While visiting the ice park you will probably be able to bare the cold for 15 to 20 minutes max. Your camera will likely freeze up after a little while too. There are small heated cafes scattered through out the park to defrost in. You will have to order something to stay there and the coffees are the nasty watered-down instant type; still, their warmth will revive you enough for a few more minutes of exposure. Definitely invest in quality warm winter gear—spend a little extra on thermal gloves, socks and long underwear and you'll save yourself a load of pain.
One of the more entertaining parts of a visit to the Harbin Snow & Ice Festival is the ice skating show: Russian skaters in tiny leotards forced preform outdoors in the Siberian winter weather. Their legs were shaking and the ice was so rough they had to shuffle, rather than glide, across it. It is hard not to feel a pang of pity for them and chuckle a little at the same time. This is the kind of thing one sees traveling in China—simultaneously unexpected and comical.
Visit the Ice Park at night to see the sculptures lit up in all their glory. The snow sculpture park is best viewed in the daytime. You can also catch a glimpse of artisans fixing and touching up the snow sculptures. Harbin's Snow and Ice Festival's sights are worth the frostbite but it is not a trip for those with a low pain threshold.
Keep warm and enjoy.
If you go: The Harbin Snow & Ice Festival happens around January 5th every year. The Shangri-La Harbin is the premier place to stay in town (book well in advance). For a cheaper sleep consider the Harbin Little Fir Youth Hostel.
published: Dec 2009

LEARN MORE | READ | FLY THERE | FOLLOW US ON TWITTER |



Warm thanks to Lyndsey Biddle for guest writing this post. Lyndsey writes for Briefcase, a website that offers luxury briefcases direct from the manufacturer. Lyndsey currently resides in Kolkata, India.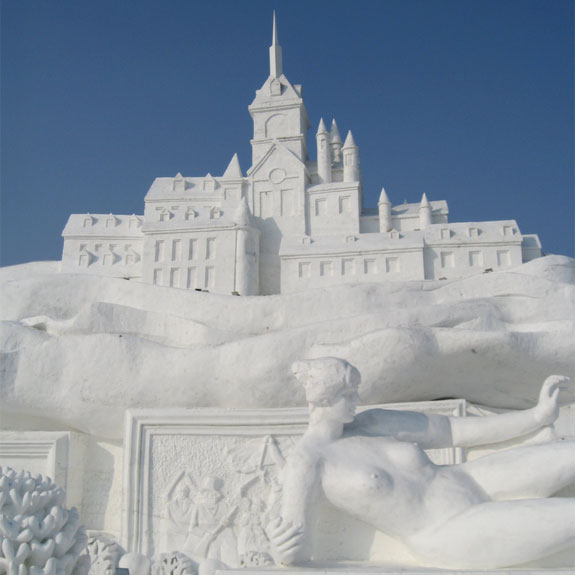 [via
StrudelMonkey
]





LEARN MORE | READ | FLY THERE | GO TO LYNDSEY'S WEBSITE | FOLLOW US ON TWITTER