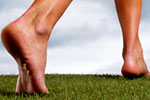 spot cool stuff TRAVEL
Question: What's the single best designed piece of running equipment?
Answer: It's a pair of gear you already own—your bare feet.
Most running shoes, it turns out, do more harm than good. The problem is that these shoes are designed to "protect" your feet in a way that they weren't meant to be. When encased in an excessively built-up running shoe the muscles, tendons and ligaments of your lower extremities will atrophy. That's because your shoes are doing the work that your legs and feet should be doing.
The other problem with running shoes is that they encourage you to run with the wrong form. Your body is designed to run on the ball and forefront of your feet. Try going for a run barefoot and you'll experience this yourself—your heels will barely touch the ground. In contrast, most running shoes will cause you to land on your heels in a way that won't only slow you down but will inevitably lead to knee and back pain.
Shoes, of course, do serve a purpose. They keep your feet cleaner and drier than bare feet, not to mention being useful when there's a sharp rock or nail under foot.
So what's an athlete to do? Get a pair of running shoes with a design that mimics the advantages of your bare feet. Here are our two favorite:
---