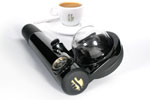 spot cool stuff TRAVEL
What do a diamond and a shot of espresso have in common?
That's no meant to be a bad joke. It's a serious question. And the answer is: Both can only be made under pressure.
In the case of the shot of espresso the pressure is required to push hot water through densely packed ground coffee beans. Typically this requirement for pressurizing water has meant that effective espresso makers were relatively loud and large electric devices.
The Handpresso Wild, however, is not a typical espresso maker.
---