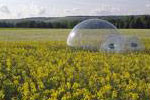 spot cool stuff TRAVEL
"The world is a bubble" declared Saint Augustine. Seventeen centuries later, the patron saint of brewers and printers would surely be a huge fan of the portable plastic offerings from Bubble Tree.
The french design and manufacturing company sells bubble products that they describe as "Unusual huts for unusual nights." Spot Cool Stuff would characterize them more as glorified tents.
---