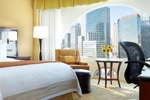 spot cool stuff TRAVEL
When Spot Cool Stuff travels we love staying in a room with a view. In Montreal, there's no better hotel room view than that offered from the upper rooms at the Montreal Marriott Chateau Champlain.
Spanning to a height of 139 meters (454 feet), the Marriott Chateau Champlain is the tallest hotel in the city (and its 9th tallest building of any sort). The vista from those lofty heights is framed by the hotel's most distinctive feature: the half-moon windows.
From inside the rooms, the view through those windows looks like this:
---