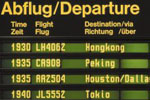 spot cool stuff TRAVEL
When we traveled as backpackers in our early 20's Spot Cool Stuff was happy to slog through airports. Back then we took some perverse pride in coping with uncomfortable travel conditions. These days, wiser and more monied, we would not take an airplane trip without our Priority Pass card.
One magical membership in the Priority Pass program grants you entrance to exclusive airline lounges throughout the world regardless of what airline or class you are flying.
---