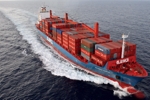 spot cool stuff TRAVEL
Conjure an image of what's it is like to go on a cruise. Are you picturing buffet dinners? On-deck spinning classes? Retirees playing shuffleboard? Many cruises really are like that. But if you're looking for a different sort of cruise scene consider traveling by cargo ship.
Cargo ship travel is the un-cruise. There's nothing fabricated about it. Every day thousands of freighters ply the high seas. Some of them have extra state rooms and accept passengers to tag along for the ride. It is as "real" as travel gets.
---