Is it possible to dislike penguins? There's something universally adorable about them. Maybe it's their waddling. Or their tuxedo outfits. Or how they are portrayed in popular culture, as in the wonderful March of the Penguins documentary.
Most penguin stories, including March, take place in Antarctica. However there are several other places on the planet to see wild penguins. At a few of those you can hop in the water and swim along side these friendly, feathered creatures. Here's a look at our favorite:

Boulder's Beach (near Cape Town), South Africa

"Africa" and "penguins." Those are not contradictions. At Boulder's Beach, in Simons Town, a short drive south of Cape Town, native penguins flourish. Indeed, the type of penguins here are of a species commonly referred to as the African penguin. (Go figure). Locals sometimes refer to them as "jackass penguins" (because of the hee-haw of their mating calls, not because these penguins act like our former college roommate).
You can find African penguins on remote stretches of coast in Namibia and on several islands off South Africa (including Robben Island, where Nelson Mandela was imprisoned). But Boulder's Beach might be the best, most convenient location to see them. And to swim with them.
The majority of Boulder's 3,000+ penguins are inside a small national park area. The 100 rand park entrance fee will give you access to both a platform viewing area and to a swimming beach. Though the penguins, unaware of the park's boundaries, wander freely around Simons Town. You'll likely find some at the public (eg. free) beach immediately north of the park. It is also semi-common to see penguins on the sidewalk and crossing the street. Spot Cool Stuff even found one seeking shade underneath our parked car!
LEARN MORE | BUY A GUIDEBOOK | FOLLOW US ON TWITTER |

Oamaru Harbor, New Zealand
Every day around dusk the world's smallest penguins waddle up on a stretch of coast near Oamaru, located north of Dunedin on New Zealand's South Island. Camera-happy travelers will be disappointed: Photography around the penguins is not allowed for fear that a flash will blind one of the birds. But nature lovers will rejoice at the chance to hang out with these cute critters in low-key style.
LEARN MORE | BUY A GUIDEBOOK | FOLLOW US ON TWITTER |

[ ALSO ON SCS: Where To Swim With Pigs in the Caribbean ]

Galápagos Islands, Ecuador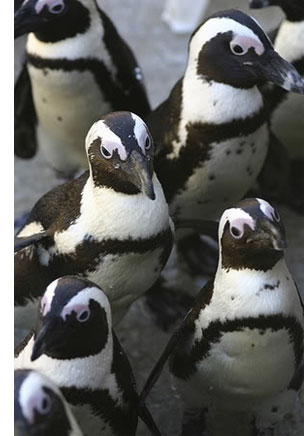 Penguins on the equator!? You'll find them on the Galápagos Islands, where a confluence of the Humboldt and Cromwell ocean currents keep the temperatures cold enough for the Spheniscus mendiculus penguin, a species native to Ecuador.
For spotting Galápagos penguins on land we recommend a visit to the western islands of Fernandina and Isabela. But for the really cool Galápagos penguin experience go scuba diving. On land, penguins are rather clumsy in the best of times. And the Ecuador sun doesn't make for the best of penguin times; you'll often see Galápagos penguins hunched forward, in this sad sort of way, to keep the sun from their heat-sensitive flippers. In the water, though, penguins are graceful swimmers and seem to exhibit a sense of humor.
If you are a beginner driver, there may be no better Galápagos scuba site than Academy Bay. For more advanced divers, try Bartolome. If you aren't a diver, but comfortable with a snorkel, you can swim along side penguins at Pinnacle Rock. Any good local tour agent can provide more info.
LEARN MORE | BUY A GUIDEBOOK | FOLLOW US ON TWITTER |
[via
diverken
]





Phillip Island, Australia
There are many penguin viewing spots in Australia. For this post, we've chosen to highlight Phillip Island, a 2-hour drive from Melbourne, because, well, we've been there. And because the island hosts the Penguin Parade. This so-called "parade" happens every evening around sunset when a small army of native penguins emmerge from the ocean to burrow beds in the sand. Local tourist officials have made the parade into a big (perhaps overly big?) deal. Visitor can buy tickets for a "Private Penguin experience" (it isn't as X-rated as it sounds), take a Penguin Parade Eco Tour and even reserve a Penguin Parade SkyBox. We imagine that the penguins thoughout all of this are wondering Why are also these humans watching us fall asleep every night?
As with Oamaru Harbor (above), photography of penguins here is prohibited.
LEARN MORE | BUY A GUIDEBOOK | FOLLOW US ON TWITTER |




Lübbenau, Germany
Originally this review included only places to see wild penguins. But we couldn't resist including the Spreewelten water park, an hour drive south east of Berlin. At a pool here people can swim along side South American penguins (albeit separated by a pane of glass).
NOTE: On warm weekend days human swimmers vastly outnumber the water park's 12 penguins; Spot Cool Stuff says: Visit on a weekday.
LEARN MORE | BUY A GUIDEBOOK |

Falkland Islands
The Falkland Islands could just as well be named the Penguin Islands. In 1980 these islands off the coast of Argentina had as many of 5 million of the tuxedoed birds. Sadly, in the 1990s and early 2000s there were large numbers of penguin deaths for reasons scientists still don't completely understand.
Fortunately, the penguin population has been holding steady in recent years. Today the Falklands is home to over 1 million penguins, meaning that the penguins outnumber the island's humans by about 350 to 1. With so many penguins you won't have to go out of your way to find one. Lay on a beach in the Falklands and it is likely a penguin will come up to you.
The Falkland Islands also have the most diverse penguin population outside of Antarctica. Five distinct species live here (see photos, below). The best time to visit the islands, penguin-wise, is January when the chicks hatch.
LEARN MORE | READ | FOLLOW US ON TWITTER |

And Also . . .
Penguins are also found in Chile, Peru, Argentina, on a scattering of small islands in the South Pacific and, of course, in numerous zoos and aquariums. At the Adventure Aquarium in Camden, New Jersey USA visitors can even adopt a penguin. (Figuratively adapt; they aren't taking penguins home).
Though penguins breed in large colonies they form lifelong monogamous relationships with a single partner. Sometimes those partners are of the same sex, a fact that prompted the kids book And Tango Makes Three about two daddy penguins raising a chick. Other cool penguin books include Flipping Brilliant: A Penguin's Guide to a Happy Life, a coffee table photo book, and for new readers the A Penguin Story picture book.
updated: 6 June 2014

Related posts:
Vision Quest: The Unusual Bed and Breakfast in Deepest, Darkest California
Japan's Monkey-Waiter Restaurant
Be a Human Hamster at this Odd Hotel
The Cat Cafe's of Tokyo
9 Cool Home Aquariums

Outside links: