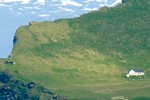 spot cool stuff TRAVEL
Off the coast of Iceland there's one particular island upon which is built a single, solitary house. It is a house that looks like the sort the Dursleys could have hidden Harry Potter for his 11th birthday.
Over the years, photos of this house — some snapped from airplanes, most from boats — have circulated around various blogs. And as people have glimpsed the digital images of the abode's stark setting and seemingly impossible seclusion, internet gossip about the place has mounted.
So, let's start by dispensing with some misconceptions. Here's some of what the house is not:
It is not located on Iceland's third largest island. It was not a gift by the government of Iceland to its most famous pop star, Bjork. The house is not a hoax created using PhotoShop. And it is not inhabited by a secretive billionaire, nor by a religious hermit, nor by a paranoid recluse intent on surviving a coming zombie apocalypse.
In fact, technically, it is not a house at all.
---