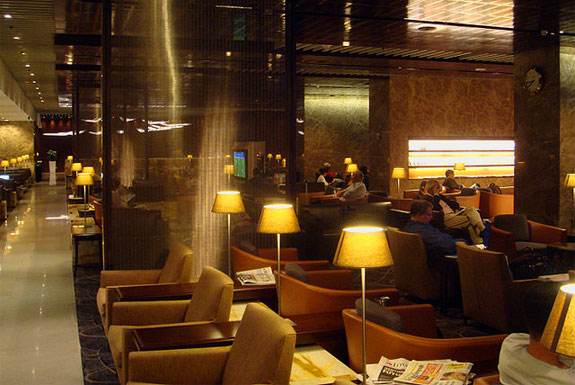 When we traveled as backpackers in our early 20's Spot Cool Stuff was happy to slog through airports. Back then we took some perverse pride in coping with uncomfortable travel conditions. These days, wiser and more monied, we would not take an airplane trip without our Priority Pass card.
One magical membership in the Priority Pass program grants you entrance to exclusive airline lounges throughout the world regardless of what airline or class you are flying.




If you've been in one of these lounges before you know what a haven they are from the maddening throngs of the public airport terminal. If you haven't been in one of these lounges, well, you don't know what you are missing. With lounge access there's no more standing in line inside the airport to buy comically overpriced cups of coffee, no more attempting to nap in uncomfortable seats, no more searching aimlessly for a place to recharge your mobile phone.

Instead, these airline lounges offer free drinks, free snacks and comfortable lounging chairs in a quiet, relaxing atmosphere. Some lounges offer free hot meals, darkened rooms for napping and airline representatives who will expedite your flight check-in or itinerary changes. (Once, at a business lounge in Bangkok, we wanted to change our seats. The lounge's airline representative told us to go relax while she took care of it. Ten minutes later she came and found us enjoying a drink in a quiet corner of the lounge and handed us new boarding passes with our upgraded seat assignments).
Many airport lounges offer free shower facilities, free magazines and newspapers, free wireless internet (or complimentary use of their computers), a free workspace with a private desk, ergonomic chair and plenty of power outlets, and a free business center with fax and photocopy machines. It isn't all rainbows and kittens and bliss in an airport lounge—but its pretty close to that relative to the public areas of many airports.

A Priority Pass card gets you into any of nearly 600 airport lounges in almost 100 countries. There are three levels of membership starting from $99 per year (that's U.S. dollars, though the program is international and open to all nationalities). The Standard Plus level includes 10 free lounge visits with the option to purchase additional visits. There's also a budget plan and a membership level that allows unlimited lounge visits. If you are traveling with guests or family members they can come into the lounge with you.
Everyone who flies more than once per year should be a Priority Pass member. The only reason we can figure why more people haven't joined is because they don't know about the program. Of course, they would know about it if they read Spot Cool Stuff. And that's something we think everyone should do too.
LEARN MORE & JOIN | BEST AIRPORT HOTELS | FOLLOW US ON TWITTER |
Related posts:
The World's Best Airplane Blanket
Jumbo Hostel: Stockholm's Airplane Airport Hotel
The Best Noise Canceling Headphones
Asus vs Acer: The Battle of the Best Travel Netbooks
The Osprey Meridian Wheeled Backpack
A Review of the Kindle 2 – Spot Cool Stuff's favorite travel gadget

All of these lounges are part of the Priority Pass program: