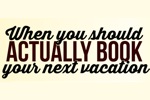 spot cool stuff TRAVEL
How far in advance should you book a vacation to get the best deal?
The content-aggregating website Buzzfeed recently teamed up with analysts at the metasearch travel booking engine Kayak to research that very question. They put their findings in a cool infographic — check it out after the jump.
---