How far in advance should you book a vacation to get the best deal?
The content-aggregating website Buzzfeed recently teamed up with analysts at the metasearch travel booking engine Kayak to research that very question. They put their findings in a cool infographic — check it out after the jump.

But before taking the infographic's finding to heart, note that it makes assumptions: First, that you traveling from the United States; second, that you are only concerned with the cost of a plane ticket. (The data doesn't take into account the least expensive time to book a hotel or rental car, for example).
That said, we are little surprised with how far in advance the cheapest deals are to be had. And it makes us wonder: How many people are really able to solidify their vacation plans up to 10 months before they depart?
If you, like Spot Cool Stuff, are not so much with the planning in advance, we offer two other strategies for find the best airfare deals:
[ ALSO ON SCS: Websites For Booking Cool, Yet Inexpensive, Caribbean Vacations ]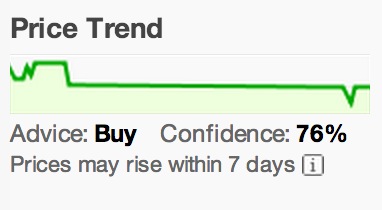 Vigilantly watch fares whenever you are prepared to book. Ticket prices can fluctuate more than stocks. The more you get a sense of price movements for a particular route the more you have a chance to buy low. Several websites will send you email alerts with potential deals — Cheap Air's Faretracker, for instance. We also like how the aforementioned Kayak.com has a "Price Trend" graph with purchasing advice.
Book last minute. If you have flexibility with exactly when — or, especially, exactly where — you go on vacation you can save big. There's always a good deal to somewhere. Most airlines have a section on their website with e-fares that update weekly. We're also fans of Priceline's last minute flight list.
Whenever you travel, here's to wishing you a fun (and high-value) vacation!
published: 24 Feb 2014

JOIN US ON TWITTER / FACEBOOK / PINTREST / GOOGLE+ / LINKEDIN / TUMBLR

Other travel-related infographics:
What Your Social Media & Tech Habits Say About How You Travel
10 Places To See Before They're Gone
A Guide To Happy Travel
Click to see full size in a new window:

JOIN US ON TWITTER / FACEBOOK / PINTREST / GOOGLE+ / LINKEDIN / TUMBLR