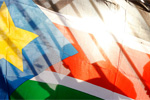 spot cool stuff TRAVEL
Happy 1st birthday, South Sudan! Congratulations on making globes everywhere outdated.
After more than two decades of strife and civil war between the mostly African and Christian southern part of Sudan and mostly Arab and Muslim north the two sides officially split. The divorce process started with a 2005 peace agreement that granted the south autonomy and the right to a referendum on independence. Then last January that referendum took place, with the pro-independent side winning an overwhelming majority. Today, the Republic of South Sudan is a sovereign state.
The workings of this new, impoverished, politically precarious state are still a work in progress. A new currency, the South Sudanese pound, is still taking hold. The visa policy is a bit uncertain, though the limited number of South Sudan embassies are issuing them and, as of August 2012 at least, travelers arriving into Juba by air have reported being able to procure one at the airport.
Assuming you can figure out where to get a visa—and what money to use—you may be wondering what there is for travelers to see in what would be the world's youngest country. Spot Cool Stuff takes a look:
---