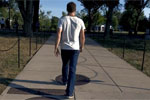 spot cool stuff TRAVEL
Is it possible to walk across the United States, from New York City to San Francisco, in two minutes? It is through the magic of stop-motion photography and the trickery of time-lapse video. There's even time along the way to snap a few photos of Washington D.C. monuments and to take in Mt Rushmore.
Here's the video of how such a journey would look . . .
---